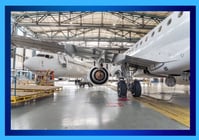 Thank you for visiting Global Plastic Sheeting for our range of aerospace products. As ​15+ years of supplying the​ aerospac​e industry, we know that you understand the importance of quality, reliability, and innovation in this industry. That's why we're excited to work with you to develop cutting-edge solutions.
Our team is proud to provide a range of advanced aerospace products that are designed to meet the highest industry standards. We offer a range of materials, including specialized films and plastics that can withstand the most extreme conditions encountered in the aerospace field.
We're confident that we can meet your specific needs and help you find the right solutions for your project. If you're looking for personalized service and expert advice, we recommend working with Lee Hinsley, one of our top aerospace specialists. With years of experience in the industry, Lee has the technical knowledge and problem-solving skills to help you achieve your goals.
Thank you again for considering Global Plastic Sheeting. We look forward to the opportunity to work with you and deliver the highest-quality aerospace products available.