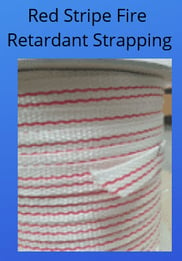 GPS
"Red Stripe"
Fire Retardant Strapping is just that....a fire Rertardant
woven poly strapping
! What does fire resistant mean? It means that when you hold a flame under the polyester strapping it will not catch fire and burn. It will not add to the fire source. Redline
meets the requirements of the NFPA 701, "Standard Methods of Fire Tests for Flame Propagation of Textiles and Films, 2010 edition, (Test 1, Small Scale) for being fire retardant!
We have the documents to prove it!
The U.S. Navy has specified fire retardant strapping for a wide variety of applications.
Why the
R
ed Stripe
you ask? Because this way when the product is in use, people can see that the strapping is the flame retardant version. This can mean a matter of life or death if the strapping is securing items from the ceiling.
This strapping can secure pallets on trucks, item in the cavity of a plane or ship...and the list goes on.
How strong is the
Red Stripe
FR Strapping? It outperforms steep strapping/ banding not only in strength but in fuctionality. When you cut steel banding it can snap and fly wildly from the pressure and seriously injurt people. The Redline FR Strapping can be cut with scissors, and wouldn't think of hurting a fly. It's just like cutting rope.
How heavy is the FR strapping? The coil weighs 1/4 the weight of the streel strap coils.
How is is disposed of? Unlike streel banding, disposal is as simple as tossing rope into the garbage. Just gather it up, and toss it out.
Can it be re-used? Absolutely! If the piece is long enough, and nothing has been spilled on it, to compromise the FR additive, it can be reused. Just re-tension the strap and use it again!
Forget workman's comp claims...this strapping cannot cut you like steel can!
Want to test it yourself?