Greenhous
e Kits By SolaWrap-The 120 lb Film Snow Load Kit!
There are various greenhouse kits on the market. What sets this greenhouse kit apart is the SolaWrap greenhouse plastic that will cover it. Where else wi
ll you find 10 year U.V. warranty on
the greenhouse film? Learn more about SolaWrap film.


Who Is The SolaWrap Greenhouse Intended For?
Commercial growers who depend on the strength of the frame coupled with the superior covering SolaWrap.
Commercial growers who don't have time to recover the greenhouse every 4 years or when the poly film fails.
Commercial growers who can't afford a crop failure due to a breach in the film after a storm.
Home owners who want the Cadillac of greenhouse kits- A serious professional greenhouse.
Commercial growers and homeowners alike who live in snowy, windy regions that need a very strong greenhouse covering and structure.
Please visit our Facebook page for more pictures and videos.
Greenhouse Kit Includes:
PRICING:

The price is based on your location. If you have high wind, snow, seismic or rain in your area, we will include more steel to protect against failure. While they are "kits"- they are made to order and thus the pricing varies due to your weather and location.
These kits include everything needed to
construct a greenhouse except baseboards, heating and cooling.
Greenhouse Kit Sizes *
24' x 64'
24' x 96'
30' x 72'
30' x 96'
34' x 114'
Greenhouse Kit Details
WHY A SOLAWRAP GREENHOUSE KIT?
What makes our kit hold up years after the others collapse under the snow/ wind load?
10 Year Warranty Against UV Degradation
R-Value: 1.72
A Film Snow Load Capacity: 120 lb/sq ft
Wind Load Capacity: 100 mph winds
Transparency: 83%
Diffusion: Up to 83%
SolaWrap Crop Specific Custom Greenhouse Structures
SolaWrap Custom greenhouse structures are built for the environment from where they will reside. The difference is a greenhouse built for the masses or a SolaWrap greenhouse structure that is designed and built to suit. Not many greenhouse structures marry the growing requirements with the environmental stresses to maximize the final result. Today, one size does not fit all. Growing has become very technical and specialized. More than ever ROI must be mixed into the entire equation and be consistent year after year. A greenhouse failure in year five can devastate the overall results with one bad storm. This is why growers are returning to SolaWrap International with their second, third, fifth houses after seeing the result from the first house.
Growers have a unique opportunity to work with a company that views the entire scope and desired outcome of a project from start to finish. The results will speak for themselves.
Discounted prices for multiple greenhouse purchases.
We are so excited to introduce our very own SolaWrap Greenhouse Structures.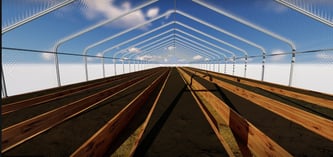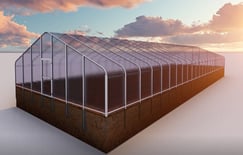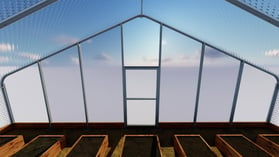 Who is the Noble Research Institute? They are a 400 person collection of scientists, consultants, collaborators, plant breeders, greenhouse assistants, agricultural economists, forage agronomists, beef producers, soils and crops specialists, wildlife biologists, biochemists, mycologists, genomicists, community members, teachers, life-long learners from 20+ Countries. See their SolaWrap greenhouses and watch their video.
Custom SolaWrap Greenhouse Structures
Do you need a greenhouse that is for the serious commercial grower? Give us a call! 760 597 9298.
Building a Greenhouse? Need some guidance?
Reach us:
By Phone Toll Free In the U.S. 866.597.9298
By Phone directly: 760 597 9298
By Fax: 760 597 9574
By Web form click here please.
**** Please note- The sample packet is free. The international postage will be additional.****