Black Opaque Plastic Sheeting for the Walls and Ceiling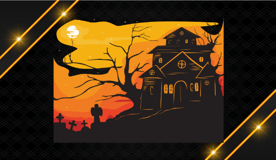 Are you ready to take your school haunted house to the next level of spookiness? Transforming a space into a bone-chilling realm of fright requires careful planning and attention to detail. One crucial element that often gets overlooked is the choice of black plastic sheeting for the walls and ceilings. While regular black plastic might seem like a convenient option, using fire retardant black plastic sheeting is the key to ensuring safety and compliance with fire regulations. In this eerie guide, we'll explore why fire retardant plastic sheeting and FR Tapeis essential for your haunted house and how Global Plastic Sheeting can help make your terrifying dreams a reality.
The Danger Lurking in Regular Black Plastic:
When it comes to creating the desired dark atmosphere for your haunted house, regular black plastic may seem like an easy and cost-effective choice. However, the horrifying truth is that regular black plastic is highly flammable. In the event of a spark or flame, it can quickly ignite and produce copious amounts of toxic smoke, turning your haunt into a real-life nightmare. Protecting the safety of your attendees and the integrity of your school or property should be a top priority.
Global Plastic Sheeting offers an ideal solution with their Black FR Polyethylene—the ultimate choice for a fire-safe haunted house. This specialized plastic has undergone a chemical alteration during the extrusion process, rendering it significantly less combustible. Approved by fire marshals, this fire retardant plastic meets the standards required for haunted attractions, including the NFPA 701-15 Test 1 and the CA Fire Marshal Title 19 fire standards.
Compliance and Peace of Mind:
When it comes to fire safety, it is crucial to comply with local codes and regulations. Before erecting your haunted attraction, always consult with the fire authorities in your jurisdiction. By choosing fire retardant black plastic sheeting, you demonstrate your commitment to safety and minimize the risk of accidents or emergencies. Global Plastic Sheeting provides the necessary certifications to prove that you are using the appropriate FR plastic, offering peace of mind to both organizers and attendees.
What About The Flame Retardant Tape To Hold The Plastic In Place?
.In the case of your haunted house or any other application where Fire Retardant (FR) plastic sheeting is utilized, it's crucial to complement it with Fire Retardant Tape. This dynamic duo works hand in hand to enhance safety measures and provide a reliable barrier against potential fire hazards. Let's delve into the reasons why using Fire Retardant Tape is a must.
Enhancing Fire Safety Measures:
Fire Retardant Tape is specially designed to complement the fire retardant properties of the plastic sheeting. By using this tape in conjunction with FR plastic sheeting, you create a comprehensive fire-resistant system that adds an extra layer of protection. In the unfortunate event of a fire, the tape acts as a barrier, preventing the spread of flames and reducing the chances of further damage.
Securely Taping FR Plastic Sheeting:
The primary purpose of Fire Retardant Tape is to securely fasten the FR plastic sheeting to walls and other surfaces. Its medium adhesion ensures a strong hold without damaging the surface or leaving adhesive residue upon removal. Whether you need spot taping, clip retention, or continuous wrap, this tape provides easy tear and application, making the process efficient and hassle-free.
Excellent Conformability and Durability:
Fire Retardant Tape boasts excellent conformability, allowing it to adapt to irregular surfaces and contours. This feature ensures a tight seal between the FR plastic sheeting and the application area, reducing the risk of gaps or loose sections that could compromise the fire-resistant barrier.
Flame Retardant and Resistant:
The tape's flame-retardant and self-extinguishing properties further contribute to the overall fire safety of your haunted house or any other project. In the event of contact with flames, the tape's properties inhibit the spread of fire, providing valuable time for evacuation and fire suppression efforts.
Versatile and Reliable Construction:
Constructed with a natural rubber adhesive and a polymeric/fabric composite backing, Fire Retardant Tape offers durability and resistance to typical automotive fluids. Its non-corrosive nature to copper wire ensures that electrical components remain unaffected.
Conclusion:
When working with Fire Retardant Plastic Sheeting, it is imperative to complement it with Fire Retardant Tape to maximize fire safety and efficiency. This tape provides secure adhesion, excellent conformability, and flame-retardant properties. By using this powerful combination, you create a robust fire-resistant system that protects your haunted house or any other application from potential fire hazards. Prioritizing safety should always be the top priority, and the use of Fire Retardant Tape with Fire Retardant Plastic Sheeting is a crucial step in achieving that goal.
Conclusion:
As you embark on your spine-chilling journey to create the perfect school haunted house, don't let the allure of regular black plastic sheeting cloud your judgment. Opt for fire retardant black plastic sheeting and fire retardant tapes from Global Plastic Sheeting, ensuring the safety of your attendees, property, and the success of your haunted attraction.
With the certifications to prove compliance with fire regulations, you can focus on thrilling your guests with the scares and surprises they'll never forget.