Freshly Poured Concrete Floors Need Protection!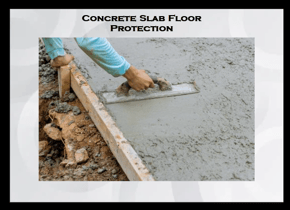 Concrete floors need protection for several reasons. Firstly, during construction or renovation, there is a risk of damage from heavy foot traffic, dropped tools, or equipment movement, which can lead to cracks, chips, or surface imperfections. Additionally, accidental spills of liquids, such as paint, chemicals, or solvents, can stain or deteriorate the concrete surface.
Various individuals and industries use concrete slab floor protection, including:
Homeowners: Homeowners undertaking DIY projects, renovations, or construction work within their properties can benefit from protecting their concrete floors to avoid costly damage.
Contractors: Construction companies and contractors involved in building or renovation projects rely on floor protection to preserve the quality of the concrete floors until the project is complete.
Remodelers: Professionals specializing in remodeling or renovation projects utilize floor protection to prevent damage to existing concrete surfaces while working on other areas of the property.
Commercial and Industrial Settings: Facilities, such as warehouses, factories, retail stores, or commercial buildings, use concrete slab floor protection during construction, maintenance, or remodeling activities to preserve the integrity and aesthetics of their floors.
Concrete Slab Floors Protection Solution
Introduction: Protecting your newly poured or renovated concrete floors is crucial during construction and remediation projects. Below are two reliable solutions:
Transguard® 2000: Lightweight and Reliable For surfaces that won't experience heavy foot traffic, Transguard® 2000 is the go-to option. This disposable, lighter weight material offers excellent protection against light impacts and liquid spills. Each roll of Transguard® 2000 measures a generous 8' x 200', weighing approximately 54 lbs. It's the perfect choice to keep your floors safe during construction without compromising your budget.
Transguard® 4000: Versatile and Stain-Resistant When it comes to protecting your concrete floors during light construction projects, Transguard® 4000 is the ideal solution. This natural colored polypropylene non-woven fabric boasts a white polyethylene backing, ensuring it won't produce brown stains or affect the appearance of your concrete even if it gets wet. Depending on your floor protection needs, Transguard® 4000 is available in rolls measuring 10'x150' and 20'x100'. It offers reliable coverage and versatility for a wide range of projects.
Why Choose Transguard® Concrete Slab Floor Protection?
Cost-Effective: Transguard® provides an affordable solution to safeguard your concrete floors from potential damage, saving you money in the long run.
Light Impact and Liquid Spill Protection: With Transguard®, you can rest assured that your floors are shielded from light construction traffic and accidental spills, preventing costly repairs or replacements.
Easy to Use: The convenient roll format of Transguard® makes installation a breeze, allowing you to quickly and efficiently protect your concrete floors.
Stain-Resistant: Transguard® 4000's stain-resistant properties ensure that your concrete floors maintain their pristine appearance, even in the event of spills or moisture exposure.
Versatile Options: Whether you need lightweight protection with Transguard® 2000 or versatile coverage with Transguard® 4000, Reef Industries offers options to suit your specific floor protection requirements.
Conclusion: Don't let light construction traffic or accidental spills damage your concrete slab floors. Transguard® concrete slab floor protection sheets are your reliable and cost-effective solution. With Transguard® 2000 and Transguard® 4000, you can enjoy peace of mind knowing that your floors are shielded from potential harm during construction and remediation projects. Invest in the protection your floors deserve and keep them looking their best with Transguard®