Protect Your Carpeting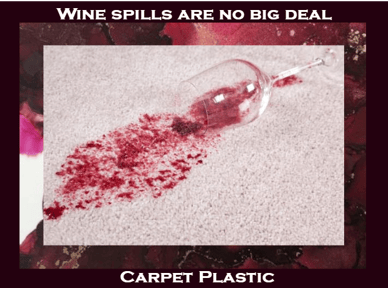 Are you tired of worrying about spills, stains, and damage to your beautiful carpet? Look no further than Carpet Plastic, the perfect solution to protect your entire carpet with ease. Whether you're hosting parties, undergoing home renovations, or simply want to keep your carpets in pristine condition, Carpet Plastic is the ultimate self-adhesive carpet protector.
Versatility for All Types of Carpets:
One of the unique features of Carpet Plastic is its compatibility with wool carpeting, making it safe to use as a runner without the worry of damaging your delicate carpets. No matter what type of carpet you have, whether it's wool, synthetic, or any other material, Carpet Plastic offers reliable and effective protection.
Protect Your Carpet from Red Wine Mishaps:
Imagine hosting a party without the constant fear of red wine spills ruining your carpet. With Carpet Plastic, you can bid farewell to those worries. Its exceptional adhesive strength and durable polyethylene film create a protective barrier that shields your carpet from stains and accidents, ensuring that your carpet remains pristine, even during the wildest parties.
Unparalleled Strength and Durability:
Carpet Plastic is not your average carpet protector. Manufactured using a blended LDPE/LLDPE material, it boasts maximum strength and elongation. This unique composition allows the film to stretch up to four times its original length, effectively absorbing impacts and protecting your carpet from heavy foot traffic and construction activities.
Quality You Can Trust:
At Global Plastic Sheeting, we take quality seriously. Our Carpet Plastic is produced in ISO9001-2000 certified facilities in the USA, using state-of-the-art water-based adhesives. This ensures the highest quality standards and guarantees that our product adheres securely to your carpet, providing reliable and long-lasting protection.
Tailored Options for Your Needs:
We understand that not all carpets are the same. That's why Global Plastic Sheeting offers different versions of Carpet Plastic to accommodate various carpet types and specific requirements. From reverse-wound rolls for quick and easy application to regular-wound rolls for automotive and stair use, we have you covered.
Conclusion:
When it comes to protecting your carpet, Carpet Plastic is the ultimate solution. Its self-adhesive nature, compatibility with wool carpeting, and exceptional strength make it the go-to choice for homeowners, contractors, and anyone looking to keep their carpets looking flawless. With Global Plastic Sheeting's commitment to quality and innovation, you can trust that Carpet Plastic will deliver outstanding performance and unbeatable protection for your carpets. Invest in Carpet Plastic today and say goodbye to worries about spills, stains, and damage on your precious carpets.
Visit the Carpet Plastic page to learn more.