Synthetic tur drainage becomes a big deal with rain hits the field. The volume of rainfall plays a factor in how much water must be removed. How well and quickly the water drains from the turf will determine how quickly the game can go on. When it comes to subsurface synthetic turf drainage there are 3 products that significantly stand out. Below is a brief description of each product with links to the full specification pages.
Enkaturf Drain 9320
Enkamat Plus 7420
Enkadrain Shockpad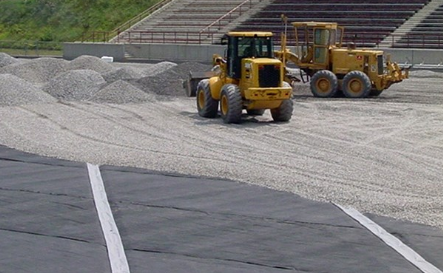 Enkaturf Drain 9320 is a subsurface drainage system that is used beneath natural and synthetic turf fields. It is a 6 inch wide strip drain product consisting of a 1 inch thick nylon core of fused, entangled filaments completely encased in a nonwoven heat-bonded geotextile fabric.
What Sets Enkaturf Drain 9320 Apart?
Enkaturf Drain strips eliminate the need for perforated drainage pipe and the associated ordeal of installing a larger diameter drain with surrounding aggregate.
The flexible, lightweight characteristics of Enkaturf Drain make it much easier to install than hard, plastic drainage pipes.
Multiple contact points between core and fabric eliminate fabric stretching into the core
Core is resilient and will not crack – even under construction vehicles
Crushed stone can be placed directly on top
No special couplings or fittings needed at junctions
Can be installed vertically or horizontally for complete design flexibility
Why Use This Synthetic Turf Drainage Product?
Excellent durability
Thin profile significantly reduces turf trauma during installation
Conforms to irregular surfaces and corners with complete and effective coverage
Geometric structure creates safe flow path even during backfill
Continuous flow even under high loads
Long rolls reduce installation costs by eliminating interlocking and excessive seams
Enkamat Plus 7420
EnkamatPlus 7420 is a 3-dimensional heavy duty Enkamat core heatbonded to an eight ounce polyester geotextile fabric. The Enkamat core is produced from nylon monofilaments fused together at their intersections.
The 95% open structure of the nylon core allows water and other liquids to drain through to the turf below while providing a tough, walkable surface for players and coaches. Enkamat Plus has a Class A Flame Spread rating per ASTM E84.
Why Select This Synthetic Turf Drainage Product?
Rolls out and rolls up in no time flat
Reusable time and again
Protects natural turf from being destroyed during games
Water flows through and does not build up on the surface
Provides air space between the turf and foot traffic
Easy to store
Enkadrain ShockPad
Just like the name describes, Enkadrain ShockPad is a full-field drain designed for synthetic turf playing fields and playgrounds that also offers a shockpad layer for player safety. Player safety guidelines for shock absorption has increased over the years. Enkadrain ShockPad comes in full-length rolls for easy installation and quick coverage of the entire field. Other subsurface drain materials, such as aggregate, are reduced because of Enkadrain's characteristic open, entangled filament design and flow rate.
Enkadrain® ShockPad is made of a proprietary polypropylene blend that gives the product exceptional resiliency properties. This drainage composite consists of a polypropylene drainage core of fused, entangled filaments and a geocomposite fabric bonded to each side. The entangled filaments are molded into a pyramid pattern that maintains the flexible design of other Enkadrain products. The second fabric eliminates the need for a filter fabric and stops penetration and migration of soil fines.
It double as the drainage layer and shock absorbing layerProprietary polymer formulation significantly improves energy restitution and shock absorption (Gmax) 

Reduces infill amounts

Excellent durability

Second fabric eliminates need for filter fabric

Continuous flow even under high loads

Increased flow rates over same thickness nylon and HDPE drains

3" fabric overlap flap on both sides
When synthetic turf drainage is your priority, please consider looking into these established products.