What is EnkaDraian 3611R?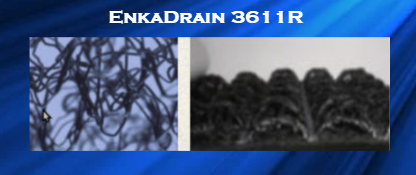 Enkadrain 3611R is a cutting-edge drainage composite mat that offers superior performance and environmental sustainability. Designed for various applications such as foundation walls, retaining walls, slabs, plaza decks, and green roofs, this innovative product is part of a new generation of environmentally conscious Enkadrain solutions.
At the core of Enkadrain 3611R lies a post-industrial recycled polypropylene drainage core, composed of fused, entangled filaments. This unique construction provides exceptional drainage capabilities, allowing for efficient water management and prevention of moisture-related issues.
The entangled filaments are intricately molded into a square waffle pattern, ensuring flexibility and adaptability to diverse project requirements. This design feature is consistent with other Enkadrain products, maintaining the high standards of performance and versatility.
EnkaDrain 3611R is Eco-Friendly!
One remarkable aspect of Enkadrain 3611R is its commitment to sustainability. With over 40% post-industrial recycled content, this drainage composite actively contributes to reducing environmental impact. By incorporating Enkadrain 3611R into your project alongside other recycled content products, you can potentially earn up to 2 LEED points, further validating your commitment to eco-conscious construction practices.
Additionally, when used in conjunction with a green roof system, Enkadrain 3611R offers even more benefits for LEED certification. By effectively reducing stormwater runoff, mitigating heat island effects, and minimizing energy consumption, this product becomes an invaluable asset for creating sustainable and environmentally friendly spaces.
Enkadrain 3611R is not only a reliable drainage solution but also a symbol of environmental responsibility. By choosing this innovative product, you are not only investing in the longevity and efficiency of your project but also actively contributing to a greener future.
Enkadrain 3611R Drainage Mat: Versatile Solutions for Various Applications
Enkadrain 3611R is a highly recommended drainage mat that offers exceptional performance in a wide range of applications. Its versatility and durability make it the ideal choice for various construction projects, including foundation walls, green roofs, plaza decks, retaining walls, beneath slabs, earth sheltered homes, underground parking, and exterior planters.
Here's why Enkadrain 3611R is the go-to drainage mat for your next project:
Excellent durability: Built to last, Enkadrain 3611R provides long-lasting protection for waterproofing systems during and after backfill. It withstands the rigors of construction, ensuring the integrity of your project.

Conforms to irregular surfaces and corners: The flexibility of Enkadrain 3611R allows it to easily adapt to irregular surfaces, corners, and contours, providing a seamless installation.

Waffle design for open flow path: The unique waffle design of Enkadrain 3611R creates an open flow path, even during backfill. This ensures continuous water drainage, reducing the risk of water accumulation and potential damage.

High load-bearing capacity: Designed for higher load conditions, Enkadrain 3611R can withstand significant weight without compromising its drainage performance. It provides reliable drainage under heavy loads, ensuring optimal functionality.

Cost-effective installation: Enkadrain 3611R is available in long rolls, which helps reduce installation costs by minimizing butt seams and eliminating the need for interlocking. This streamlines the installation process, saving you time and money.

LEED points contribution: Enkadrain 3611R contains recycled content polymer, making it an environmentally conscious choice. By incorporating this drainage mat into your project, you can earn LEED points, further demonstrating your commitment to sustainable construction practices.

Increased flow rates: Compared to drains made of nylon and HDPE, Enkadrain 3611R offers superior flow rates despite having the same thickness. This enhanced drainage capability ensures efficient water management and prevents potential water-related issues.

Fabric overlap flap: With a 3" fabric overlap flap, Enkadrain 3611R provides additional protection and a secure connection between adjacent sections, enhancing the overall performance and reliability of the drainage system.
Choose Enkadrain 3611R for your next construction project and experience its outstanding durability, efficient drainage, cost-effectiveness, and contribution to LEED certification. This drainage mat is designed to meet the highest standards and deliver reliable results in diverse applications.
Together, let's build a better tomorrow.
Visit the EnkaDrain 3611R page here.