Multi-Ply Heat Shrinkable Laminate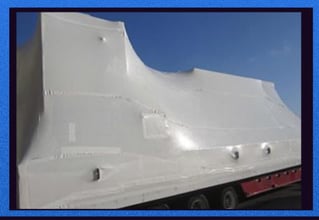 Why Use Griff-Shrink 3-Ply VCI and 5-Ply VCI Heat Shrink Film?
Griff-Shrink® is a patented multi-ply heat-shrinkable laminate that is heat shrinkable and combines the performance of polyethylene and specialty heat-shrinkable films supported with a reinforcement grid to create a highly tear resistant and durable product. The reinforcement grid provides a uniform tear resistance in all directions. Griff-Shrink® is ideal for transporting large over-the-road flatbed shipments while protecting machinery and equipment from damage and corrosion.
Advantages
Shrouds to protect large over-the-road flatbed shipments

Prevents damage and corrosion to critical machinery

Products arrive factory fresh to customers

Weather proof

Provides excellent storage for outdoor storage until ready for shipment
Griffolyn™Griff-Shrink 5-Ply VCI

is a reinforced
5-Ply heat shrinkable laminate that provides ex-ceptional tear resistance and outdoor weather-ing with the additional benefit of anti-corrosive properties.
GPS Heat Shrink Wrap Film 6 mil- White or Blue
GPS Heat Shrink Wrap Film 7 mil- White or Blue
GPS 9 mil Heat Shrink Wrap FR- White
GPS 12 mil Heat Shrink Wrap FR White- Custom Order.This film has it all! A 12 mil heat shrink wrap film that is fire retardant, has a high strength cord grid (scrim) to offer additional high strength, and has a UV stabilizer that allows for protection from outdoor weathering. Passes NFPA 701 Test Method 2
Heat Shrink Tape -

meets the demanding needs of Shrink Wrapping applications- patching holes, taping on access doors for shrink wrapped items This white tape is standard in 4" x 180' and 2" x 180'. The 4" has pinked edges for easy hand tearing in the field.