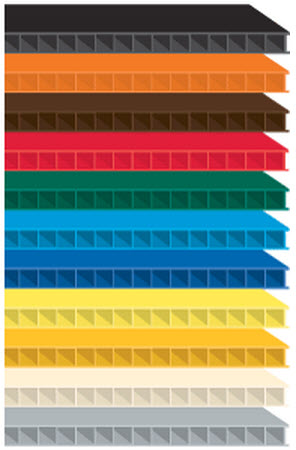 Corrugated plastic sheets are high impact twin-wall plastic sheets that are made from polypropylene copolymer. Think of cardboard that is made from plastic.They are used many different industries for varied applications.Corrugated plastic is also referred to as "fluted Plastic".
Agriculture: Corrugated plastic sheets (fluted plastic sheets) are waterproof, recyclable, re-usable, sturdy and visually pleasing to the eye. Boxes are often made from this product because it is so practical over time.
Automotive: Often the automotive industry is looking for a material that is tougher than corrugated fiberboard yet light, waterproof, and stain resistant. Because of its strength, corrugated plastic sheets are widely used in automotive applications.
Packaging: Corrugated plastic sheets are used all the time in the packaging industry. Due to its design versatility, durability, waterproof feature, and recyclability, corrugated plastic sheets make into wonderful boxes for a variety of products.
Signage and Graphic Arts: Have you seen all those open house signs that real estate agents use to advertise their open houses? More often than not, corrugated plastic sheets are the foundation fore these signs. They allow for consistently high-quality printable surfaces for the verbiage and graphics that go onto signs of all types. They will hold up to rain, stains, and are tough enough to be used time and time again.
Corrugated plastic sheets come in a wide variaty of colors and thicknesses. They can be fire retardant or non-fire retardant.