Greenhouse Kits
Everything you need to add a greenhouse to your property covered in SolaWrap greenhouse plastic. MORE
Meet SolaWrap's Greenhouses
Up To 300' Wide Britespan Fabric Buildings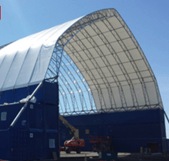 Fabric buildings for All Industries
200' wide built to suit
Cost effective innovative buildings
Authorized Dealer For Britespan Building Systems Inc.
Get Blown Away- See the Solawrap Britespan Page ...OR
Ultra Scrim FGC
Ultra Scrim FGC
is a "Tech Forward" new technology liner that utilizes a layering process that makes this liner high strength due to its multi-axial grid reinforcement on all layers! The entire liner is FDA compliant including the grid inner layers.
FOOD GRADE
FDA COMPLIANT
100% Recyclable
Incredibly strong
1/2 the weight for the same strength
Duracover- Biobased Ground Cover- Reduces Plastic
Completely biobased woven ground covers that are effective against weeds and provide optimal drainage.
Woven ground covers are also water-permeable so that rain can get through to the soil without difficulty.