Poly Scrim Products- Vapor Barriers for Crawl Space and Under Slab
Under Slab Vapor Barriers: Low Permeance (stop water seepage) and High Strength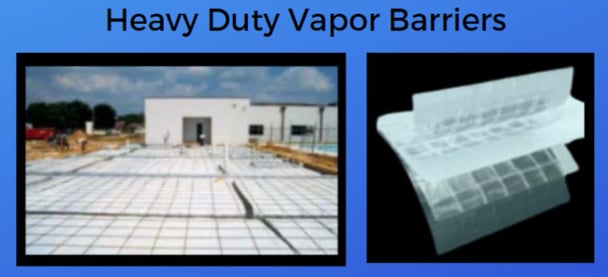 Quality under slab vapor barriers/retarders keep water/moisture from seeping into the building under the flooring! Moisture is sited as one the single most problematic issue that ruins flooring and coated surfaces. The key is to know how and where to install the vapor barrier so it can do its job property. Even arid climates need vapor retarders. Why? Because air conditioning an interior space/ room can create a significant difference in vapor pressure which may cause moisture to be drawn out of the ground through the slab and into the space above- the area of low vapor pressure. People also forget that landscape irrigation systems, planters, broken plumbing pipes and other water sources can lead to moisture problems, even in arid regions.
A vapor retarder is a material that has a flow rating of one perm or less (1 perm = 1 grain/hr•ft2 •in Hg). Permeability of one perm is often still too high for a vapor retarder to be effective in most building applications. A lower permeability rating is generally required. As a general rule, vapor retarders should be installed as close as possible to the side of the assembly through which moisture enters. Air barriers are designed to stop the movement of air, which can cause not only convective heat fl ow, but movement of large volumes of moisture along with the air
Poly Scrim GEO

It's Poly Scrim with a geotextile

Combines a reinforced high density polyethylene with a non-woven geotextile for an under slab vapor retarder with superior puncture resistance.

Poly Scrim 16 HD

What to Use to Stop Water From Seeping Up Through a Concrete Floor

Reinforced high density 5 ply. Offers greater strength and lower permeance for a higher level of integrity in roofing and under slab applications.

Ultra 10 & 15 are co-extruded polyolefin membrane containing the latest polymer technology, resulting in superior puncture resistance, impact and tensile strength.
ASTM Standards....Do you know the two standards for vapor retarders under concrete slabs?
There are two ASTM standards for vapor retarders under concrete slabs:
ASTM E-1745-11 "Standard Specifications for Water Vapor Retarders Used in Contact with Soil or Granular Fill Under Concrete Slabs". ASTM E-1745-09 list three classifications which may be used to specify vapor retarders.This spec covers flexible sheet plastic/ membrane/liner material that is to be used as a vapor retarder.The membranes are classified into 3 classes. The materials shall be subject to tests for water vapor permeance, tensile strength, and puncture resistance. Under special conditions, the material shall also conform to the required flame spread, permeance after soil poison petroleum vehicle exposure, and permeance after exposure to ultraviolet light. Note that this particular test does not cover bituminous vapor retarders. The test is performed on new material that has been manufactured specifically for this purpose.
ASTM E-1643-11 "Practice for Selection, Design, Installation and Inspection of Water Vapor Retarders Used in Contact with Earth or Granular Fill Under Concrete Slabs" Vapor retarders/ barriers main function is to offer a method of limiting water vapor transmission and capillary transport of water upward through concrete slabs on grade. The goal being to reduce the adverse results from water ruining floor finishes and interior humidity levels. Vapor barriers are not intended to provide a waterproofing function.