Are All Fabric Structures The Same?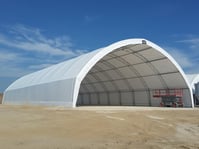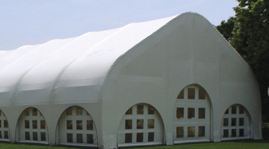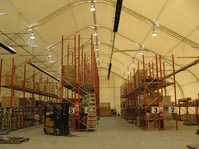 What do you need to consider when selecting a fabric building manufacturer?
Engineering
Is the fabric building engineered to your site specifications? There is a difference between having the building "designed" versus "engineered". A designed building may meet the size and dimensions the customer specifies, but it doesn't take into consideration the critical components of the environment- such as wind and snow loads, thermal factors, exposure factors and so on. With a Britespan fabric structure, you will get a quote for an engineered structure that will comply with all North American and International building codes.
Galvanizing
Is All Galvanizing the Same?
No! There are two different types of galvanized pipe: in-line (triple coat/Gatorshield or pre-galvanized) and post production hot dipped galvanized. While both use zinc coating, the application is the most critical part.

Britespan applies hot dipped galvanizing to all of their trusses post production (after all fabrication is complete), which uses an entirely different process to ensure lifelong corrosion protection and a much longer service life. We start with untreated black structural steel. We bend and weld the raw steel into our trusses. Holes are drilled into the pipe to ensure the galvanizing reaches every surface. After that, the trusses are submerged in a bath of molten zinc where they receive a coating on every surface inside and out that is three times thicker than the coating on the outside of in-line galvanized pipe. This process means that your building will offer a service life that is approximately three times longer than the in-line galvanized alternative.
In-line galvanized pipe is rolled through a waterfall of zinc and the pipe is coated on the outside, painted on the inside, and is then sent out to be manufactured. The pipe is bent, welded into trusses, and shipped out. Unfortunately, the welding of the trusses burns off the paint on the inside of the pipe, leaving it unprotected and susceptible to rust before it ever gets erected.
Trusses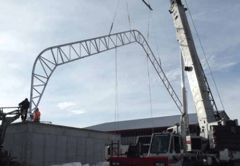 Truss Weight- Some of the heaviest in the industry!
Many companies claim that they use as much as 30% more steel in their buildings. The question is, 30% more than what? In order to exceed required loading, Britespan has some of the heaviest trusses in the industry. For example, our 42' truss weights 580 lbs, where as some of our competitors trusses weigh in around 360 lbs. Your building is not something you want to be lightweight.

Truss Depth

Geometry plays a very important role in the structural integrity of a building. The deeper the truss the more rigid it will be. Britespan's trusses are commonly built deeper, allowing us to adhere to the strictest building codes and provides superior longevity in adverse conditions. Britespan trusses start at 18" of depth and go up to 96" of depth.
Many competitors choose to minimize this truss depth for the sake of price. This leaves the consumer wide open to all of the liability should there be a failure in the building.

Round vs. Square Tubing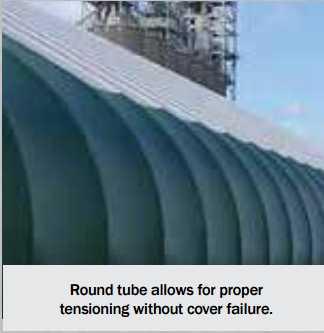 Pound for pound, round tubing is stronger than square. Britespan buildings utilize round tube on their arches as it dramatically reduces cover friction and provides a stronger truss that is needed to comply with stringent building codes. Cover friction can occur where the cover rests against the steel of the truss.
Purlins and Cross Cables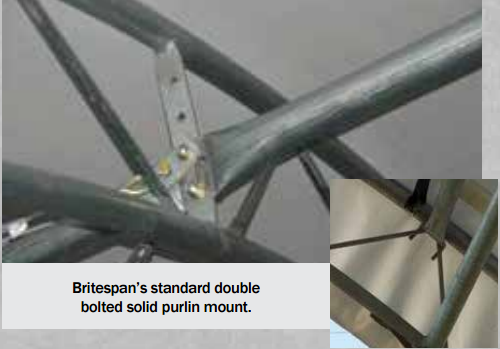 Solid Mounted Purlins
What are purlins? Purlins are a section of pipe that keep the trusses spread apart and are responsible for withstanding the wind load against the ends of the building. Many companies use small diameter light gauge purlins. This often results in the building racking or collapsing in severe wind conditions. These companies may also use a saddle bracket and fork connection that wraps around the thruss cord for attachment. This allows for rotation around the cord and offers less rigidity in the connection causing the building to buckle under load. Britespan uses up to 4.5" purlins that are double bolted to the engineered structural truss, providing the strongest building possible. There are no parts that can move or loosen over time, which increases the lifespan of your cover.
Purlin Construction
The key to ensuring your fabric building will last for a long time is to make sure that the steel remains as rigid as possible. Cover failures occur when the fabric rubs against the steel trusses. Purlins play a critical role in the rigidity of a building. Britespan buildings use a dedicated large diameter one piece solid purlin. This system provides unparalleled strength and durability in high wind areas.
Cross Cables
The strength of a building is dependent on many factors. While the amount of steel in the building is the biggest factor, you also need to look at the building's rigidity. The less the building moves the longer the fabric will last. Cross cables in a building dramatically reduce the deflection of the building under load. Cables must be secure and tight to achieve this benefit.

Britespan uses the best quality cables that are solid mounted to structural truss members that are specifically designed to do the job, and they utilize turnbuckles for easy tensioning.
Many manufacturers overlook this element and weave their cables through many bays and wrap them around the web of the truss, which is quite often the lightest part of the truss. The cables can slide and move and require maintenance to ensure their tension at all times. This results in buildings that move more in the wind, reducing the life of the fabric.
Tensioning the Covers
Winch Blocks or Ratchet Straps
What is the most important factor in ensuring the longevity of your fabric building? Its ensuring your cover stays tight. Britespan utilizes the cleanest and strongest tensioning system. Our 10,000 lb. winch blocks hold all of our covers on from 19' wide and up. In order to be able to sell you a cheap building, many of our competitors will provide you with their standard ratchet strap fastening system. While this is a cost effective alternative up front, the cost of replacing your cover is not. Make sure your fastening system is up for the job!
Tension Pipe
The tension pipe is a pipe that runs parallel with your cover and is attached to the winch blocks. It allows you to put tension on your cover, which is required for longevity and warranty. A loose cover will rapidly result in cover damage that is not covered by the manufacturer's warranty. Britespan only uses large diameter or oval heavy gauge material for fastening pipe, which allows for even tensioning of the cover without fear of an over tension situation over the trusses. This means your cover should last 20-25 years under normal circumstances.
The ROI of the Fabric BuildingWhen comparing the costs and advantages of different building types such as wood framed buildings or steel covered buildings to a Britespan fabric building, it can be difficult to know where to start. So we have broken out some of the important components to the performance of any type of building.
Windows for Lighting
A building with non-translucent roofing materials must add windows and or skylights to allow natural (free) daylight to enter the building. Typical window frames and glass for a 4x6 foot window will cost $500 to $1000 (installed estimate). Buildings may require dozens of windows to suitable light the interior. A Britespan building with the translucent fabric cover does not require windows. The light transmission through the covers provides a soft, pleasant interior lighting using natural (free) lighting, even on cloudy days.

Nighttime Lighting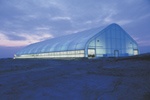 Without the daytime sunlight, most buildings will require some form of nighttime lighting. Equipment costs, installation costs, and operational costs must all be considered. For a wood or steel construction building, the owner will need to add enough lumens of light to properly light the working area of the building, consuming electricity every minute of use. A Britespan building will require typically 1/3 of the lighting as the bright white underside of the fabric roof reflects and disperses the artificial lighting broadly and evenly, reducing shadows and reaching all areas of the building.

Ventilation
Britespan buildings feature a high roof design which results in a large volume of interior air space. In agricultural uses, this draws the warm moist air up and away from livestock. With the ability to offer side ventilation, end wall ventilation and roof ventilation, warm moist air, including odours, can easily be vented from buildings. In commercial, retail and industrial uses, the non-permeable fabric cover allows for increased control and air management. Ventilation and heating/cooling systems do not need to compete with the many sources of air inflow/outflow of a conventional building.

Painting and Re-roofing
Conventional buildings such as wood sided buildings require frequent maintenance, such as painting or staining, to maintain their visual appearance. In addition, roofs of shingles or tar have a limited lifespan and need to be replaced in a time consuming and labour intensive disruption to your business. If a Britespan building ever needs to be re-roofed the cover replacement techniques can be performed in less time that would normally require removing and re-shingling a roof.

Construction Time
Building construction is necessary, and can be a lengthy process, from site prep to foundation to framework to roofing and siding to interior prep and finishing. Wood and steel buildings with their labour intensive construction techniques, can keep your business waiting on construction for months. A Britespan steel-framed fabric building is pre-engineered at the factory and shipped in component pieces, ready to be erected. With rapid construction techniques, a Britespan building can be erected in weeks instead of months. This minimizes any interruptions to your business operations.
Insuring your Fabric Building
Protecting your investment is paramount.
Insurability
Can a Britespan Building be insured? YES!
Britespan Building Systems Inc. was formed on the foundation of providing the best value to its customers. We are not willing to sacrifice top quality product for the sake of price when selling our buildings. When purchasing any type of building, you are making a substantial investment. Have you ever considered that this investment might not be insurable? Britespan buildings are engineered to comply with the most current building codes, have more steel, and can be insured investments for years to come.
Of course, you want to make sure your new fabric building is protected by insurance in case something would happen. Some insurance companies have begun excluding or limiting coverage on buildings that do not meet the requirements of the building codes. It may also be difficult to get any value for an uninsurable building when it comes to the sale of the property. Britespan works hand in hand with insurance companies to eliminate the worry on their end. This means that your Britespan building will be insured like the rest of your buildings.
Why you must meet building codes? Liability
Some building owners may think it is unnecessary for the building to meet the requirements of the building codes if it is for their own personal use. You should seriously consider the matter of liability if someone is injured in any way while in your building.
Do Britespan builings come with a Warranty?
Warranties provide you with peace of mind that if something happens to your product, the company will be there to stand behind it. Warranty length is most commonly 15 years. Britespan offers a 16 year warranty, and we believe in our buildings so much that we actually manufacture our product inside one of our own buildings.
Why Should you Select a Britespan building?
HOT DIP GALVANIZING Post-weld hot dip galvanizing bonds to steel to provide lifelong corrosion resistance from the inside out.
CLEARSPAN INTERIOR With no interior columns, movement throughout the interior is easy for vehicles and equipment.
VENTILATION Large volumes of interior air space give you superior air quality and ventilation.
LIGHT Naturally bright interiors create comfortable environments and help reduce energy costs.
QUALITY Constructed from quality North American steel and engineered to comply with the most current building codes.
RETURN ON INVESTMENT Our structures provide large, bright, secure spaces with reduced operating and maintenance costs.
Proven Track Record Britespan has been in the fabric building industry since 1994, offering the widest product line available today. We design, engineer and manufacture each product line in-house. Our structures are engineered to be portable, temporary or permanent, with rapid installs even in remote areas.
We hope this information will help you make an informed buying decision. Watch this Britespan building from start to finish!