People throw around different terms when they are referring to greenhouse covers. We hope to clarify what is meant by the terms you may hear when you are talking about a greenhouse structure.
Greenhouse Plastic: The term, "greenhouse plastic" is a term to describe polyethylene, copolymer plastic, polyvinyl plastic or polycarbonate plastic that is used to cover the roof and/or sides of a greenhouse. It is a general term since there are several different forms of plastic to cover a greenhouse. The term "greenhouse plastic" is a broader term than "greenhouse film".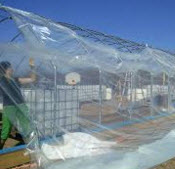 Starting with polyethylene, a common greenhouse film used is 6 mil polyethylene. This is a smooth plastic that is placed on the roof of the greenhouse to protect the plants inside from the elements. It is an economical choice which will require replacement usually in 1-4 years.
There is a second type of greenhouse plastic called, Solawap Film.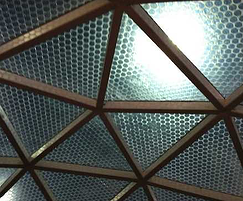 This polyethylene greenhouse film has a layer of bubble which serve to insulate and diffuse the light. This film is more expensive than 6 mil poly- but it is much stronger, and lasts at last check over 30 years in some places. Colpolymer Plastic is an upgrade to 6 mil poly since it is a little more durable and can last longer. Polyvinyl is the clear plastic one often sees on boats as windows. It is quite strong and thicker than 6 mil poly.
Another form of greenhouse plastic is polycarbonate.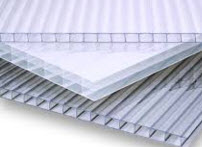 This is a hard piece of plastic that comes in sheets and is added to the greenhouse. For the most part you can find greenhouse plastic for sale on line at specialty greenhouse supply houses. You can also find greenhouse film at Home Depot or Lowes.
Greenhouse Panels: A greenhouse panel is another name for a polycarbonate sheet of plastic that is used to cover a greenhouse. Some greenhouse panels are flat, and others are wavy. They are strong and designed to withstand the elements better than their cousin the 6 mil poly film.
Greenhouse Kits: What materials are used for greenhouse kits? Today there are many different types of greenhouses that come in a kit. They can be made from plastic, glass or poly carbonate. they come in all different shapes, sizes and cost points. And where will you find a greenhouse kit? Often the big box stores such as Home Depot or Lowes may carry greenhouse kits.
Greenhouse Plans: Some folks like to DIY- Do it yourself with a set of greenhouse plans. In this case deciding on what kind of greenhouse you want will require you to know what materials you want the greenhouse to be made from. Which greenhouse plastic will you select? Will you go with 6 mil plastic sheeting, Solawrap film, or a harder cover made from polycarbonate?
Greenhouse growing is a great way to grow a wide variety of plants. Just decide on the greenhouse plastic that will best suit your budget and your environment and enjoy the fruits and vegetables of your labor!