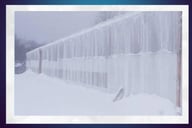 SolaWrap Greenhouse Polyethylene bubble plastic is thought to be and may be one of the best materials for covering greenhouses. This plastic is composed of a 17 mil (8.5 mm/430um) clear polyethylene plastic that guarantees 10 year U.V. protection, an R-value of 1.7, light transmission direct (350-1600nm) of 83%. It was a snow load of 120 lbs/feet ²) and a wind load of 100 mph or 43lbs/ft². This strength depends on the stability of the structure and its orientation. Learn more here.
This greenhouse plastic is very UV resistant!
That all depends. How often do you want to change out the plastic? Lighter less durable plastic coverings such as 3-4 mil may give you a year. Thicker films may last up to 4 years. SolaWrap is the only 17 mil clear covering. Lastly SolaWrap has some houses boasting 30 years without a single recover.
Maybe it's time we send you a free sample packet. You will receive a small square of SolaWrap, a connector, and a brochure. Get a hold of the film and see for your self why both commercial and back yard enthusiasts love SolaWrap. It just makes sense (cents)!