Grain Cover- Protection From Adverse Weather, Sun, Wind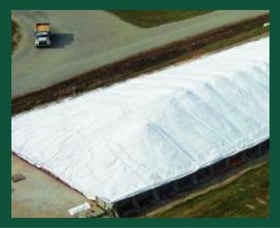 Griffolyn grain covers are reinforced polyethylene laminates that can handle daily and seasonal use, year after year. This product is designed to resist tears, abrasions, the elements, and retain their strength and flexibility in extreme temperatures and rugged conditions.
They are UV stabilized to withstand sun exposure, scrim-reinforced for high strength and will not rot or mildew. Griffolyn® reusable grain tarps are a cost-effective solution to ground storage problems.
Grain Covers Features
Low permeability greatly inhibits moisture transmission
Resistant to wind loads
Sizes up to 200' × 200'
Cost-effective solution to ground storage problems
Custom fabrication is available to meet your exact specifications
Flexibility and lightweight allow for easy handling and quick installation
Multiple layers and cord reinforcement resist punctures and tears
UV stabilization protects the material from degradation
Covers made in the USA!
Long-life expectancy allows for significant cost savings through reuse and fewer replacements
Please click on the links below to view the products.
Griffolyn® TX-1600 is a 3 ply laminate combining 2 layers of U.V. stabilized co extruded polyethylene and a high strength cord grid.
Griffolyn TX-1200 FR Griffolyn® TX-1200 FR is a 3-ply laminate combining two layers of linear low density polyethylene and high-strength cord grid.