If you have ever seen plastic sheeting burn, it goes up in flames and doesn't stop until it's completed its mission.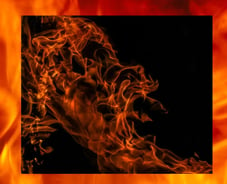 Let's define "fireproof" as the ablility to

withstand

fire or great heat.
Fireproof, flame resistant and fire retardant are often interchanged to mean the same thing.
Is there a plastic that is fireproof?
Plastic in its natural state is not fireproof but it is possible to make plastic that is fireproof. The secret is incorporating hydrated magnesium oxide or aluminum oxide, as well as phosphorus or bromine compounds, into low-density polyethylene. When exposed to fire, the compounds break down and absorb the heat energy, thus preventing the plastic from burning. The plastic doesnt burn, it melts.
Watch the video HERE and see a side by side comparison of fire retardant/ fireproof plastic sheeting versus regular plastic sheeting.
PROVE IT! Some if not most states require commercial establishments to comply with the use of fire retardant plastic sheeting for their events such as amusement parks, schools, haunted houses and so on. Global Plastic Sheeting issues product certification from independent fire testing labs for their fire retardant products. When the fire marshall shows up you will have the necessary documentation for your plastic sheeting.
Do you want to learn more?