DIY Home/Office Painting projects...Drop Cloth or Plastic Sheeting?
Should you buy plastic sheeting or drop cloths for a painting project?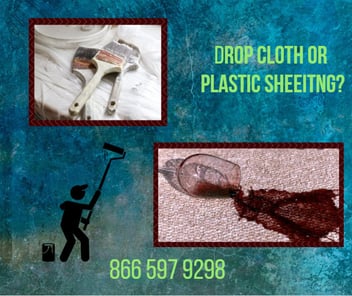 A few questions need to be answered first:
Is this a one time weekend job, and then the work is done?

Are you a neat, seasoned painter who will barely drop a spec of paint? Or are you a novice, and paint could be falling?



Weekend Painting Job
If you goal is to knock out this painting job and be done with it, then consider plastic sheeting. You can get self-adhesive plastic sheeting that will stick to floors, carpets, and counters and then be easily removed and thrown aaway.
If you see more painting in your future, then canvas or plastic drop cloths are something you can fold up and use again. It just depends if you want the ease of tossing the plastic when you are finished, or waiting for the paint to dry on the drop cloths. Additionally, do the math for a roll of plastic sheeting and drop cloths and see what you think.
Self-adhesive plastic sheeting stays put, and can withstand yourstiletto heels if your painting party is black tie! You can relax when the dog knock over the paint can. Some people save the remains of the roll, and use it at the next red wine party where the buffallo wings are also taking flight. It is clear and easy to use.
If you have granite/ marble or any type surface countertop, you may adhere the countertop plastic to protect the surface.
As for covering the furniture, flexible plastic sheeting is a great light-weight choice!
Not sure what to use? Give us a call. We are ready to help!