Do you have a crawl space vapor barrier in your crawl space? Is your crawl space encapsulated? Does it look anything like the picture below? Does it small like old moldy sox, dead rodents or worse? Just because you have plastic sheeting/ crawl space vapor barrier on the floor doesn't mean your crawl space is correctly encapsulated.

What is the definition of "encapsulation"?
It is, "to enclose or to be enclosed in or as if in a capsule". The idea being you want the crawl space to become sealed in a sense so it can keep out moisture, mold and hazardous gases such as methane, radon, etc.
Tip #1: Use engineered plastic sheeting that is designed to hold up year after year- blocking out mold, radon, water vapor and the like. (Click here to see crawl space vapor barriers) In the image directly below, a 6 mil "visqueen" was used. Chances are good the home owner did this job himself. He bought big box store plastic, and merely laid it on his crawl space. This plastic is maybe 4 years old. It has torn, and started to decay. Nowhere was this so called vapor barrier taped to the walls, and the seams were not taped closed.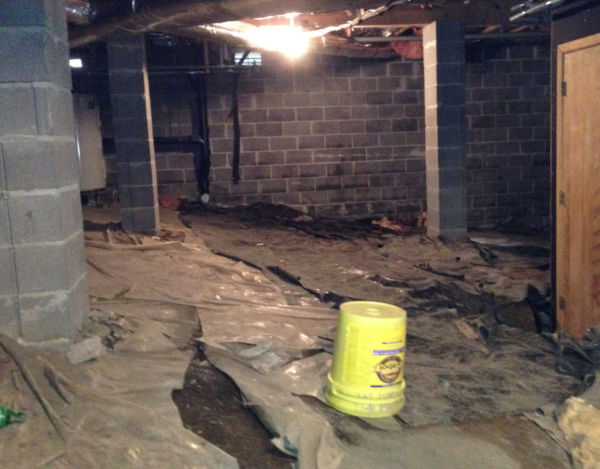 Tip #2: Tape the vapor barrier to the walls and colums. As you can see from the images below, the plastic sheeting is pulling away from the post. Somehow, laying it next to the column or post just doesn't do the job. You need to use a proper sealing tape designed for this job.
Tip #3: See Tip # 1. If you have a rocky floor you are sealing, you must select a vapor barrier that holds up to rocks. It's even more important if you plan to store things in your crawl space, and people will be walking around down there.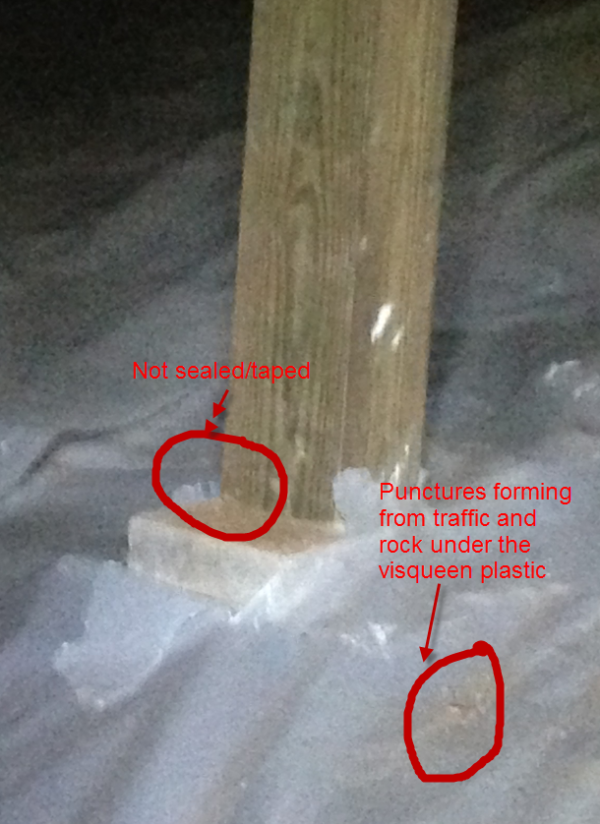 Tip 4: Properly tape the seams closed. We recommend a minimum of 6" of overlap taped to the length of the seam.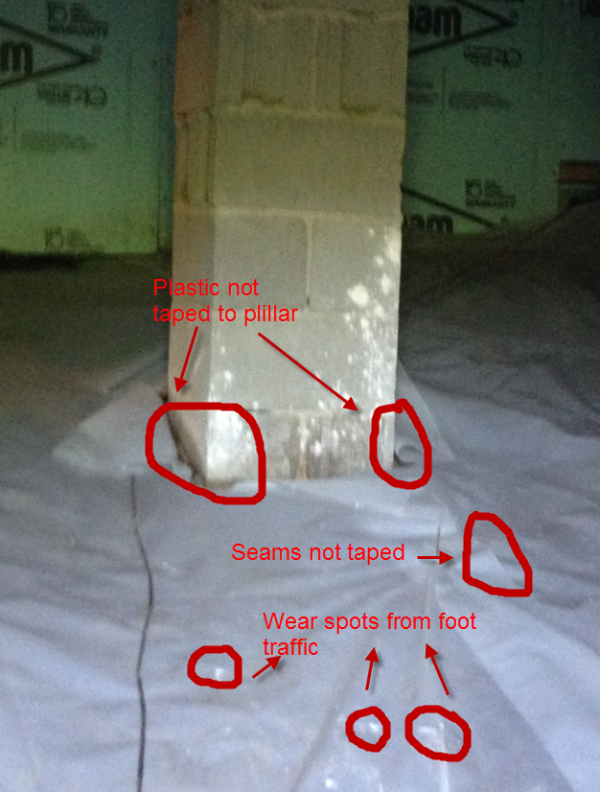 Tip #5: Got Mold? Crawl spaces are a breeding ground for mold. Mold like dark, damp places to breed. It also likes the off-gases from visqueen. Don't waste your money on the wrong vapor barrier. Make sure the liner you select won't decompose and let the mold take over your crawl space.
Tip #6: If you live in an area that has radon, please make sure you protect yourself and your family from the effects of radon Raven Industries VaporBlock 20+ is a heavy duty liner that is tested to insure it is the highest quality vapor barrier you can get to block radon and methane gas.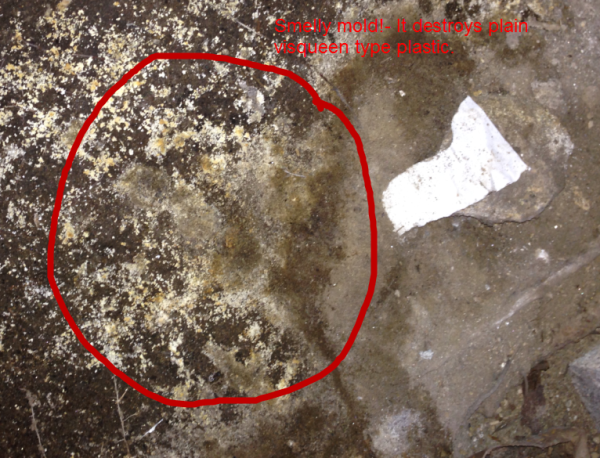 Tip #7: If you are buying a home that is brand new construction, make sure you have the builder provide you with proof that the home is radon free.