Crawl space vapor barriers also referred to as vapor retarders or more accurately-vapor diffusion retarders come with different characteristics to suit the application they are protecting. There are a few fundamental questions that need to be answered so the most appropriate vapor barrier can be selected for the job.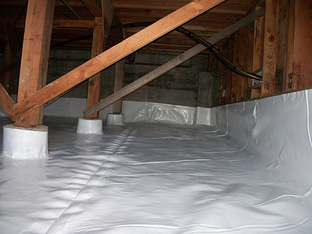 One of the most important questions that arise is whether the home is in an area that has radon or methane gas coming up through the ground. This is critical because radon gas decays into radioactive particles that can get trapped in your lungs when you breathe. This means your lung tissue can be damaged leading to lung cancer over the course of your lifetime. Knowing if you have radon gas in your home will help you decide on buying a crawl space vapor barrier that block deadly radon gas.
The next consideration is the surface to which you are laying the crawlspace vapor barrier (vapor diffusion retarder) upon. It is rocky with sharp rocks, then you need a liner that won't puncture when it comes in contact with the soil. Thicker material will give the crawl space vapor barrier more strength to hold up to that type of surface.
How will you be using the space where you place the vapor diffusion retarder? If it is a crawlspace that is used for storage- or where people will be walking, then again you will want an 18 mil liner that has some brawn.