Reinforced plastic sheeting is also referred to as "string reinforced plastic", "Scrim reinforced liners" and "cord reinforced liners" to name a few. Reinforced plastic sheeting can come in clear, natural, black, white, blue, or any color your heart desires. The key for a custom color is quantity.
Reinforced plastic sheeting is used for a multitude of applications. The fact that it is string reinforced makes this plastic sheeting hold up under harsh environments. The string not only adds strength to the plastic, but it inhibits/ stops tears in the vicinity of the puncture. Due to its versatility, one of its popular uses is as an enclosure film. Builders will use it to enclose an area when they are are working to keep the elements out. They may also want to keep dust from traveling to another part of the building.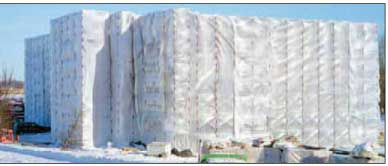 Reinforced Plastic Sheeting can be used as a hay tarp. UV additives are added to the formulation so the tarp will not readily disintegrate in the sun. Hem and grommets can be added to this reinforced liner in order to hold it in place.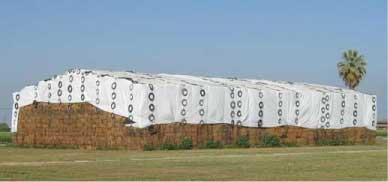 The theater is another place you will see scrim reinforced plastic sheeting. When hung on stage, lighting can be placed in a variety of places to create the desired effect. It is used as a way to portray a revelation about one thing or another. It can give off a ghostly vanishing effect. Again, the uses are endless.
Click here for a selection of reinforced plastic sheeting options. It's such a great product that can be reused when properly cared for.