Patco 8210 Transparent Outdoor Surface Protection Tape
Patco 8210 is an exceptionally tough outdoor tape (polyurethane elastomer). It is transparent and will conform to difficult surfaces that are hard to protect. It offers both U.V. resistance and abrasion protection. Customers use it in applications that need resistance to solvents and fuels.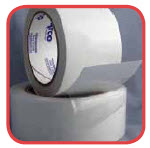 Applications:
Surface protection to high wear surfaces susceptable to chipping, scratching and weathering
Used on aircraft leading edges, wings, stabilizers and struts
Used on airfoil and ground effect panels on race cars.
Benefits:
High adhesion & long aging
Stays clear (no yellowing) allowing for surface inspection
Protects surfaces
Easily and quick application
Can be die-cut
Blocks U.V.
Sticks well to a variety of surfaces, will not stain or dry out.