Fire Retardant P 212 WHT- Glass Cloth Tape-High thermal rating and offers superior solvent resistance
7.5 mil Flame Retardant Tape
P-212 WHT tape is a 7.5 mil fire retardant tape. It has the highest thermal rating combined with superior solvent resistance making P-212 WHT an excellent choice for demanding applications in the aerospace and electrical industries.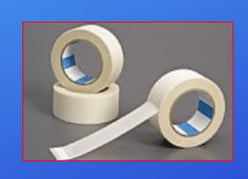 P-212 ideal in high temperature cable harnesses and connection insulating applications.

Excellent edge tear resistance

Recommended for general-purpose insulating and holding applications involving heavy-gauge wire and/or high temperatures.