Something Powerful
GPS 759 FR Low VOC Tape 9 mil

mil Heavy DutyTape

Product Information:
Adhesive Type: Rubber

Meets NFPA-

701, Tested in Accordance to ASTM E84

Carrier / Support / Facestock: PE (Polyethylene) Film
Elongation %: 65%
Gauge / Mil: 9.0 mil
Operating Temp Range: 20 to 200 °F
Peel Strength / Adhesion to Backing (oz/in): 40 oz/in
Peel Strength / Adhesion to Steel: 85 oz/in
Performance Category / Characteristics: Low VOC, Clean Removal*
Tensile Strength: 35 lb/in
WVTR (Water Vapor Transmission Rate): 0.10 US Perms
Color(s): Clear, White, Red
Product Construction: Single-Coated Tape
Features & Benefits:
Polyethylene Film Backing

Thick facer for added strength durability
Conformable and flexible
Low elongation for consistent surface bond
Pinked/Serrated edge available for hand tearability

Synthetic Rubber Adhesive

Formulated to adhere to low surface energy materials such as PE films
High tack for good quick stick
Superior bond to rough or challenging surfaces
Excellent shear strength
Repositionable and clean removal from many surfaces

Low VOC, Contains no heavy metals (such as lead and chromium)

Environmentally friendly and safe to use
Ideal For:
Creating temporary enclosures and containment areas during remediation and marine applications.
Heavy-duty bundling, wrapping, and repairs.
Bonding to low surface energy materials.
Providing temporary surface and floor protection.
Heavy-duty polyethylene splicing and hanging applications.
Seaming and patching shrink wrap for indoor/outdoor storage of marine, RV, and other equipment.
Separation of dissimilar metals.
Achieving waterproof packaging solutions.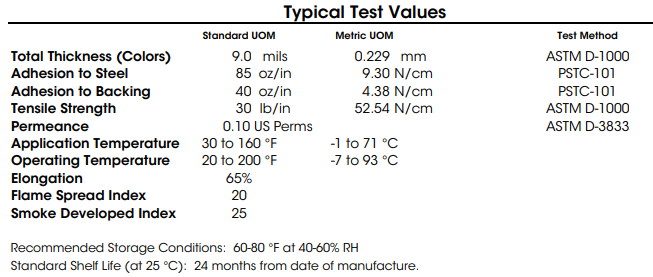 What Is Great About This Tape!
This tape, with its Polyethylene Film Backing, proves exceptionally useful in a multitude of applications. Its thick facer enhances its durability and strength, while its conformability and flexibility ensure it adapts to various surfaces. Its low elongation guarantees a consistent surface bond, and the availability of a Pinked/Serrated edge enables hand tearability. The Synthetic Rubber Adhesive is designed to adhere to low surface energy materials, like PE films, and boasts a high tack for quick stick. Notably, its strong bond extends to rough or challenging surfaces, supported by excellent shear strength. The tape is repositionable and ensures clean removal from numerous surfaces. Furthermore, its low VOC composition, free from heavy metals, aligns with eco-friendliness and safety. Given these remarkable features and benefits, the tape is ideal for temporary enclosures, heavy-duty bundling and repairs, bonding to low energy surfaces, protective uses, and even waterproof packaging solutions.
Don't Get Stuck...Let us help!