GPS 757 7 mil Heavy Duty Tape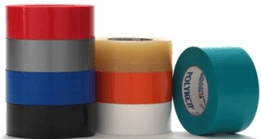 Product Information:
Adhesive Type: Rubber
Carrier / Support / Facestock: PE (Polyethylene) Film
Elongation %: 85%
Gauge / Mil: 7.0 mil
Operating Temp Range: 20 to 200 °F
Peel Strength / Adhesion to Backing (oz/in): 35 oz/in
Peel Strength / Adhesion to Steel: 75 oz/in
Performance Category / Characteristics: Low VOC, Clean Removal*
Tensile Strength: 25 lb/in
WVTR (Water Vapor Transmission Rate): 0.11 US Perms
Color(s): White, Red, Black, Green, Glue, Silver, Custom Color
Product Construction: Single-Coated Tape
Features & Benefits:
Polyethylene Film Backing

Conformable and flexible
Excellent durability and solvent resistance
Low elongation for consistent surface bond
Pinked Edge available for hand tearability

Synthetic Rubber Adhesive

High tack for good quick stick
Excellent shear strength
Repositionable and clean removal from many surfaces

Low VOC, Contains no heavy metals (such as lead and chromium)

Environmentally friendly & safe to use
Ideal For:
Abatement industry: hang and patch poly sheeting, seal waste disposal bags, etc. Labeling and color coding. Short-term masking for stucco and plaster. Bundling, wrapping, and repairs. Temporary surface protection. Convention industry - bundling carpet, securing poly carpet protection, color coding, etc. Seam and patch shrink wrap for indoor/outdoor storage of marine, RV, and other equipment. Film-to-film splicing. Dissimilar metal tape.