Polyethylene Sheeting for floor protection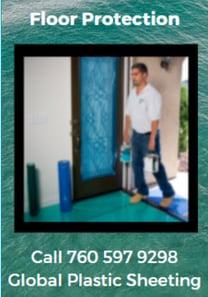 Question: What are the different options for floor protection with polyethylene sheeting/plastic sheeting? I mostly want to cover my tile floors while my walls and ceilings are repainted.
Answer: The best product we have to offer is a polyethylene sheeting product called, Floor Plastic. Floor Plastic is a self adhesive polyethylene film that will stick right to the tile, and won't slip around when people walk on it. You won't have to worry that any tile will be exposed while Floor Plastic is in place. When your job is complete, just pull up the Floor Plastic and voila, your tile will look just like when you started.
Can Carpet Plastic be used on wood??
Question: Can you use Carpet Plastic on Wood Floors?
Answer: No, you do NOT want to use Carpet Plastic on wood floors or any hard surface. The reason Carpet Plastic was developed was to create a strong enough adhesive system that will actually hold onto carpet fibers. Carpet Plastic's adhesive system is much too aggressive for wood floors, or any hard surface, in most cases.
Plastic Sheeting to Protect Carpeting in Office
Plastic won't damage our carpets? A: We are SURE! Hundreds of millions of square feet of this product have been used over the past 30 years, and not once have we ever experienced this phenomenon. A word of caution though, we do recommend that all carpeting in an area where work is being done is covered. For instance, if drywall work is done, and only part of the carpet is covered, the carpeting left uncovered will almost always look lighter than the carpet that was covered, because of the drywall dust (and potentially paint overspray). Not all carpet protection films are created equal. There are imported products on the market, using solvent-based adhesive, that when not manufactured perfectly, will turn carpets permanently pink, green or orange.
Carpet Covering to Protect Carpet During Painting
Question: I am looking for the sticky carpet covering product that sticks to carpeting so I can paint my living room, and not worry about spilling paint on my carpet. What do you recommend?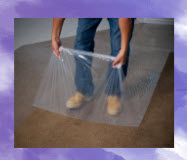 Answer: Home builders, carpet installers and people in the industry trust Carpet Plastic! It is a self adhesive film that is 3 mils thick. You can leave it down for 45 days normally and be assured that it will not discolor your carpet or leave behind any sticky residue. Thanks to the fact that it is made in the USA under very strict guildes. Nothing will give you as much assurance that your carpets will be protected better than Made in the USA Carpet Plastic. For further information, click here.
Polyethylene sheeting to protect carpets
Question: Is polyethylene sheeting suitable to use to protect my brand new carpeting? I have a 3 year old who is known to spill things.
Answer: Absolutely! We have a self adhesive polyethylene sheeting product called, Carpet Plastic. This 3 mil film can be rolled out and adhered to your carpet. Should anyone spill anything, this self adhesive polyethylene film to create a barrier between the carpet and the spilled item. The key is to not leave it down longer that what the product calls for.
Why are we experiencing Flooring Adhesion Failure?
Question: Why are we experiencing Flooring Adhesion Failure? In other words, our flooring is not sticking.
Answer: The culprit is moisture. Moisture in the slab absorbs alkalis from the concrete. The alkaline moisture breaks down the resin in the flooring adhesive.This is where a vapor barrier/ moisture retarder would have stopped this from happening.
Can I glue 6-mil polyethylene sheeting to concrete?
First, Polyethylene sheeting and a lot of adhesives to not get along well together, so any type of adhesive should be tested for compatibility before any significant area is treated. If an adhesive is going to have an adverse reaction to the plastic sheeting, this should happen within minutes, and the plastic will be visibly damaged, or even melt. My number one suggestion for trying to secure these folds to concrete flooring would be double-sided carpet tape. It is thin, very aggressive, made to adhere to concrete, will withstand the moisture that comes through concrete, and adheres very well to most polyethylene sheeting. It is also cost effective and won't make a big mess.