303 Aerospace Protectant™- UV Protectant for Boats +
303 Protectant AKA Formula 303
303 is the aerospace UV protectant for rubber, plastic, vinyl and more!
It offers
Powerful UV blockers prevent fading, cracking and premature aging

Dries to a clear matte finish

Restores lost color and luster

Easy to use: Simply spray on and wipe dry

Safe and effective for: vinyl, Plexiglas, carbon fiber, rubber, plastics and finished leather
It's like sunscreen for your surfaces!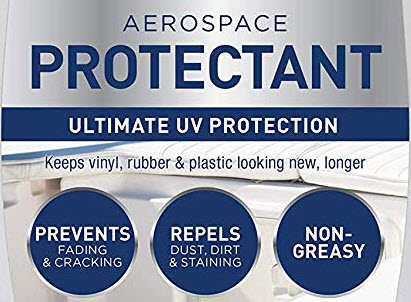 303

Aerospace Protectant™- Is it only for Aerospace?
Originally engineered for aerospace and aviation applications, 303 Aerospace Protectant is a premium surface treatment that instantly provides superior protection against harmful UV rays that can cause discoloration, fading, cracking and/or chalking of surfaces. 303 Aerospace Protectant also repels dust, dirt, lint, soiling, staining, water spots, salt water and mildew. Safe and effective for vinyl, gel-coat, fiberglass, carbon fiber, synthetic/natural rubber, plastics and finished leather.
Since 1980, 303® has been the premium choice for avid boaters, car enthusiasts, homeowners and those who refuse to settle for any less than the best. No other brand works as hard to keep the things you love like new, longer.
Other uses but not limited to:
Boats- marine vinyl- protects from stains ruining your vinyl seats
Patio Furniture
Convertible top
Spa Cover
Leather Seats
Automobile Tires,
Motor Homes
How To Use 303:
Spray evenly on clean dry surface. Wipe and buff surface until completely dry with a microfiber towel. If streaking occurs, too much product has been used. Use a wet towel to remove excess and wipe dry. Apply every 3-5 weeks for maximum UV protection.
MADE in the USA!
Shop Now!
GPS uses affiliate links. As a customer, you do not pay any more or less because of an affiliated link. A small percentage of the sale will go to the company who generated the link.