Low Density versus High Density- what's the difference?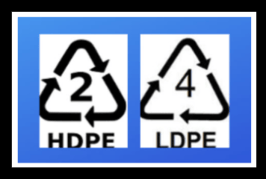 Question: What is the difference between low density and high density polyethylene?
Answer: The biggest difference is how closely the molecules bond to each other in the structure of the product. High density has a lot more molecules in the same amount of space. This causes high density to have different qualities when compared to low density. For instance, High density of the same thickness will be stronger, more puncture resistant, more tear resistant, tougher, stiffer, more chemical resistant, than a low density polyethylene made from the same grade of polyethylene. Low density polyethylene is a softer material, more pliable, more conforming. These are general types of polyethylene. Within each type there are varying quality levels, additives, and much more science to vary the products from their natural states to give them the qualities needed for the applications.
There are many reasons why one might be used in a given application, compared to using the other. Call 866.597.9298 if you would like a further explanation.