XF Drain- A Geocomposite Combining Drainage, Filter, Aeration & Water Retention Functions
Green Roofing Drainage Solutions- XF (Xeroflor's) Drainage Mats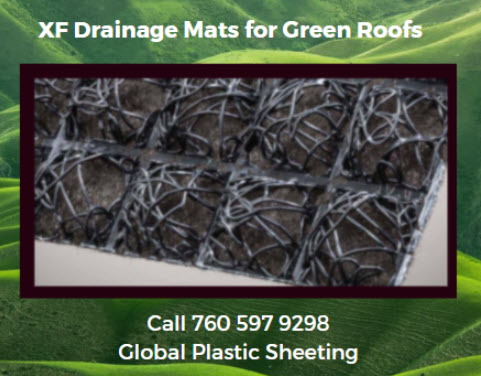 XF drainage mats are engineered to divert excess water from the green roof quickly for healthy plant growth. Properly designed drainage mat is critical for a successful installation which brings environmental benefits. XF Drain's 3D entangled filament profile design creates a 95%+ open path in all directions to divert excess water from the green roof quickly. The 3D core has high compressive strength, which support the weight of the plants and growing medium while providing high flow rate.
XF 3801 Data Sheet For a Steep 5-20° (9-36%) green roof gradient
XF 3811 Data Sheet For a Low 1-5° (2-9% ) green roof gradient
XF 100 FF Non woven Filter Fabric
XF 107 WR- Water Retention Fleece for Green Roof
XF 3211 -Drainage Core with Bonded Non-woven Water Retention Fleece
XF 3601 Drainage Core with Fleece for extensive sloped green roof
XF 118 VC- Vegetation Carrier Matting For green roof
XF 411- Green Roof Root Barrier
XF 301 VC Vegetation Carrier For Pre-vegetated Mats
XF 3111 Synthetic Green Roof Drainage Composite
Extensive Vs Intensive Green Roofs
A green roof is also called a "living roof", "eco-roofs", and "vegetative roofs". It is a roof of a building or home that is partially to completely covered with vegetation. Roofs that have potted plants or container gardens are not generally considered green roofs.
Extensive green roofs are less than six inches deep and are typically 2-4 inches in depth. Their light weight makes them ideal for retrofit projects on older buildings or any stricture with limits on the total weight load. Generally, extensive green roofs require minimal maintenance and can thrive in most temperate climate zones.
Intensive green roofs are deeper- with a minimum depth of 12.8 cm/ 5.0 inches, and allows for more types of plants. Intensive green roofs increases potential stormwater retention. Heavier and more expensive than extensive green roofs, intensive systems generally require higher maintenance.
XF Drain- Always Clear and Never Clogged
XF Drain 3D is an open-matrix drainage mats which has been used on successful green roof projects around the world. Available in different versions (see below) a non-woven filter fabric to one or both sides of the drain core. This also protects the roof membrane and supports the vegetation, promoting drainage and root aeration. An optional retention fleece may be added to provide water and nutrient storage.
PROTECTED MEMBRANE ROOF (PMR) Maintains Open Diffusion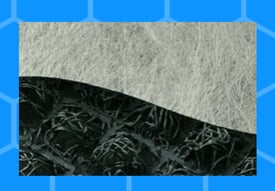 XF Drain is 95% open thanks to its 3D fused, entangled filaments core and permeable filter fabric, which facilitate water and vapor movement. This enables topside venting and maintains open diffusion above the extruded polystyrene rigid insulation, therefore suitable for PMR applications.
XF Drain Is Unique! No Fabric Intrusion Under Soil Conditions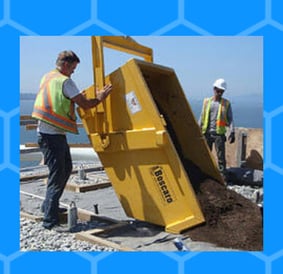 XF Drain consists of a 3D entangled polymer filament core that is thermally bonded to one or two fabrics. Unlike dimpled drains, XF Drain's design configuration prevents fabric intrusion under load and maintains high flow rate under soil conditions.
The Drainage Mat that Easy to Cut and Install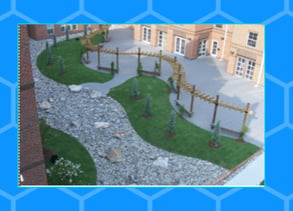 XF Drain is lightweight, flexible, lays perfectly flat for quick easy installation. The textile-based mat cuts easily, fits to curves and contours, and does not create sharp edges when cut.
Other features
Lightweight, low profile, high flow rates.

Open filament design creates 360° flow opportunities.

High compressive strength and resilient under high loads.
40%+ post-industrial recycled content contributes to LEED points.

Water retention option for arid climates and storm-water management.

Customized drainage products for specialized green roof applications.
ENVIRONMENTALLY FRIENDLY
XF Drain green roof drains contain a minimum of 40% by weight of recycled polymer from post industrial sources. Some options also include a water retention fleece made of 100% recycled polymer fibers to capture and store water, and manage storm-water runoff.
Green Roof Drainage System
XF 3111- Drain + Water Retention for Semi-intensive GD
XF 3211-Drain + Water Retention for Semi-intensive GD
XF 3601- Thin Drain for Extensive GR, Underpaver and Sloped Roof
XF 3801- Thin Drain for Extensive GR, Underpaver and Sloped Roof
Success Story!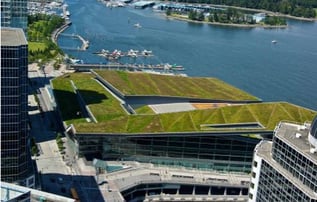 KEEPING CANADA'S LARGEST GREEN ROOF IN PERFECT HEALTH
Vancouver's heavy rainfall called for XF Drain solution that was tough, reliable, and could deliver extraordinary performance for a world famous project.
95% open structure with high permeability to air and water