Enkamat: 3D Matting- Erosion Control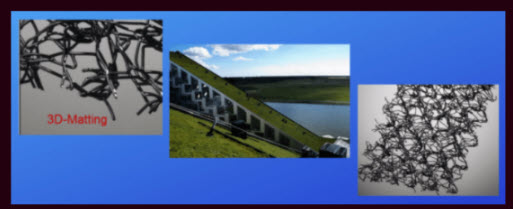 3D-mats are unique strong three-dimensional open structured polymeric mats that encourage the swift growth of vegetation. Even before the vegetation starts to grow, Enkamat provides immediate erosion control.
Erosion Control/Turf Reinforcement Mats- What the Industry Looks To:
Looking for permanent erosion control? Enkamat comes on a roll, and is ready to go for controlling erosion that comes from wind and water. Enkamat can be used on steep dry slopes. The molten filaments are entangled thus creating an artificial root structure. It holds soil when used as an erosion control mat and provides a strong foothold for vegetation. When Enkamat is laid on slopes and seeded and filled with humus or fertile soil, Enkamat protects the soil and germinating seeds.
Enkamat erosion control mats will not degrade in soil, had good resistance to weathering and UV radiation. It is resistant to all chemicals in concentrations which are normally contained in the earth and surface water. It is inert and not harmful to mother nature. Rodents do not like how Enkamat tastes, so they will not destroy this product.
All 3D MATS can be combined into composites with foils, fleeces, membranes or woven structures, depending on the desired performance and functionality.
Please call us for pricing and a shipping quote. Ships often within 24 hours.
ENKAMAT 3D- MATS and their Specifications
Questions and Answers:
Q.: When using Enkamat for erosion control, should the grass need mowing, can the grass be mowed?
A.: Yes, mowing equipment can be used safely to mow the grass as Enkamat will stay firmly secured in the ground.
Q.: Will Enkamat require post-installation maintenance?
A.: No, no additional maintenance is required.
Q.: What temperatures can Enkamat tolerate?
A.: Enkamat resists temperatures down to -40 degrees Celsius (-104 Fahrenheit)
Q.: Is Enkamat flammable?
A:. Enkamat has a low flammability and does not support combustion.
We are a proud distributor of Enkamat/ Enkadrain products. Please call us for pricing and a shipping quote. Ships often within 24 hours. We can ship all over the world.
Disturbing Facts About Soil Erosion:
Soil Erosion- What the big deal?
Soil erosion by some is seen as an inconvenience. It is something that must be dealt with on slopes where vegetation alone is not able to hold the earth in place. But what is the big deal?
Here is what the Dalai Lama has to say on the subject of soil erosion:
"The threat of nuclear weapons and man's ability to destroy the environment are alarming. And yet there are other almost imperceptible changes – I am thinking of the exhaustion of our natural resources, and especially of soil erosion – and these are perhaps more dangerous still, because once we begin to feel their
repercussions, it will be too late."
-Dalai Lama
Soil erosion refers to the wearing away or down of soil by wind and water. The problem is that soil is removed faster than it is formed. Recently, it has become a bigger problem. 15% of the Earth's soil covered surface has been afflicted with land degradation. Of this, accelerated soil erosion by water is responsible for about 56 percent and wind erosion accounts for about 28%. This breaks down to 4,247, 123 square miles of land is affected by water erosion, and 2,123,561 square miles is eroded by wind. Nobody stops to think that soil is a precious resource from which life could not perpetuate without its life giving capabilities. It is estimated that half of the earth's topsoil has been eroded in the last 150 years.
Soil erosion happens with water moves the sediment and agricultural pollutants into watercourses. This can lead to the silting-up-of dams, lake eco-system disruption, and even drinking water contamination. The erosion rate does not have to be high in order for high quantities of agricultural pollutants to be transported off-site. Eroded soil has a decreased capacity to absorb water and thus runoff prevails, with flooding and damage to local property.