XF 3601- Thin Drain For Extensive Green Roof for a Sloped Roof
White Polypropylene with White Filter Fabric
XF 3601 is one of a new generation of environmentally conscious synthetic products. This drainage composite consists of a post-industrial
recycled white polypropylene drainage core and a very strong but lightweight white Colback® filter fabric thermally bonded to one side. The U groove entangled filament configuration is protected from UV degradation for up to 30 days. This product, with 40% post-industrial recycled content, can help contribute up to 2 LEED points when used in conjunction with other recycled content products. XF 3601 can contribute towards additional LEED points
when used with a green roof by reducing storm water runoff, heat islands and energy consumption.
Polymer Properties
Polypropylene has excellent resistance to organic solvents, degreasing agents, acids, and alkalines. It has tensile strength superior to high density polyethylene. It is has a low moisture absorption rate, is resistant to staining, and is very light weight.
XF 3601 Applications
 Split slab construction
 Plaza decks
 Under pavers
 Green roofs
 Foundation walls
Features and Benefits
 Excellent durability  Reflects heat to prevent insulation board warping & membrane softening during construction  Continuous flow in all directions,
even under high loads  Protects waterproofing during construction  Conforms to irregular surfaces
and corners  Long rolls reduce installation
costs by reducing butt seams and eliminating interlocking  Recycled content polymer contributes towards LEED points  3" fabric overlap flap
3601 Technical Data
Physical Properties

Flow Rates

Fabric Properties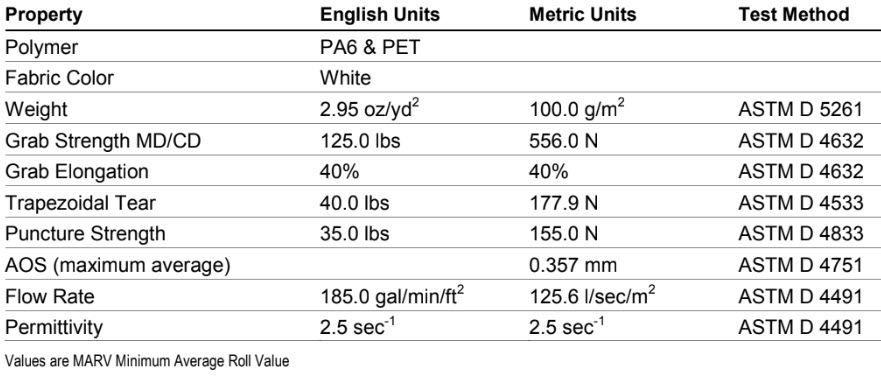 Packaging

To the best of our knowledge, the information contained herein is accurate. However, Low & Bonar Inc. cannot assume any liability
whatsoever for the accuracy or completeness thereof. Final determination of the suitability of any information or material for the use contemplated, of its manner of use and whether the suggested use infringes any patents is the sole responsibility of the user.
These products may be covered by patents or patents pending.