XF 3211 Green Roof Draining Solution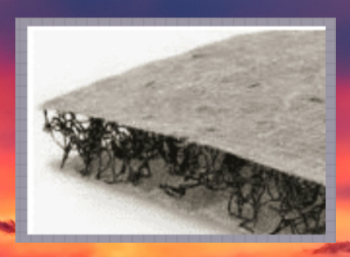 XF 3211 is a geo-composite composed of a drainage core of fused three dimensional entangled polypropylene filaments thermally bonded to a nonwoven water retention fleece made of 100% mixed recycled synthetic fibers that are durable and do not rot.
The polypropylene filaments are molded into a square waffle pattern to form a drainage core with excellent compressive strength. Polypropylene has a low moisture absorption thus maintaining its strength even in wet service environment. It is chemically inert and has excellent resistance against organic solvents, degreasing agents, acids, and alkalines.
The water retention fleece is a lightweight non-woven that can capture and store more than 7.5 times its own weight in water. Unlike reservoir drains where water is stored in segregated small "cups", XF 3211 provides a uniform supply of water in direct contact with the growing medium that is readily accessible by the plants.
XF 3211 comes in convenient roll format. It is water vapor permeable and therefore suitable for installation on conventional and protected membrane roofs. It is an environmental conscious green roof drain that contains 71% by weight of post-industrial recycled materials.
Recommended Green Roof Applications
 Extensive, semi-intensive and intensive green roofs
 Exterior and interior planters
 Enhance water retention and stormwater management capacities of green roofs
 Suitable for conventional protected membrane roofs (PMR)
Features and Benefits
 Protects waterproofing during and after green roof installation
 High compressive strength to maintain good drainage under loads
 Superior water holding capacity reduces runoff and contributes to stormwater management
 3D open core provides a high drainage rate with minimal resistance
 Drainage core is resilient to transient loads and maintains flow
 Lightweight, flexible, easy, and quick to install
 Conforms to irregular or curved roof surface
 Easy to cut and meet complicated landscape design requirements
 Durable, excellent chemical and biological resistances
 Recycled contents contributes towards LEED credits
Installation of XF3211
Install XF 3211 with the water retention fleece facing up and entangled filaments down. Butt rolls and cover joint with adjacent roll using the built-in 4in. (100mm) side lap to achieve a continuous fleece coverage. Butt ends of rolls together. Stagger adjacent rolls by at least 40 in. (1m) so end joints are not aligned. Cover XF 3211 immediately after installation to prevent wind uplift and degradation by ultra-violet radiation.
XF32 11 Technical Data

Fabric Properties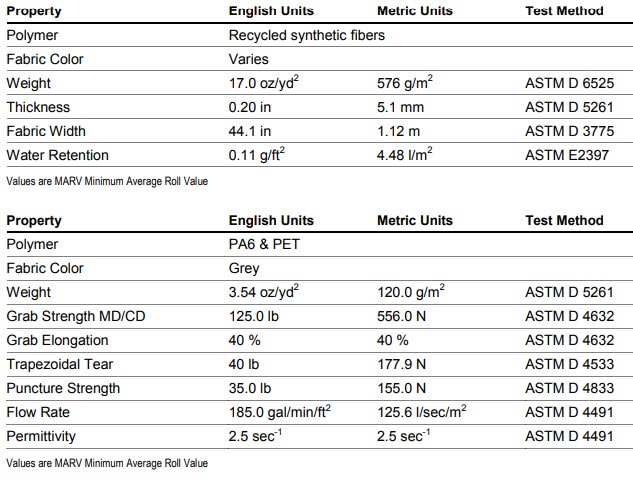 Polypropylene Polymer Properties
Polypropylene has excellent resistance against organic solvents, degreasing agents, acids, & alkalines. It has tensile strength superior to high density polyethylene. It is lightweight & has low moisture absorption.
XF 3211 Packaging

To the best of our knowledge, the information contained herein is accurate. However, Low & Bonar Inc. cannot assume any liability whatsoever for the accuracy or completeness thereof. Final determination of the suitability of any information or material for the use contemplated, of its manner of use and whether the suggested use infringes any patents is the sole responsibility of the user. These products may be covered by patents or patents pending.