XF 301 VC- Extensive Green Roof Carrier and Water Retention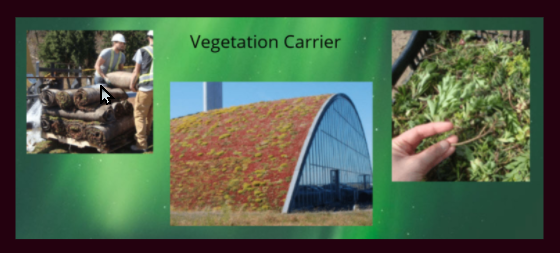 Vegetation Carriers For Cultivating Pre-vegetated Mats
XF 301 VC is both a vegetation carrier for pre-cultivation and a water retention layer for extensive green roof systems. XF Grow's vegetation carriers have a 3D entangled polymer filament coil network bonded to a filter or fleece fabric. The entangled coils create excellent root anchorage and prevent soil erosion. The fabric's high tensile strength ensures integrity of the pre-vegetated mats while installed on sloped roof.
The vegetation carrier's core of PA filaments are thermally bonded on the underside to a nonwoven PET/PA filter fabric. This layer is attached to a 800 g/m2 water retention fleece on the underside. Both layers are stitched together with a shiplap of 100 mm on both sides. The layer of entangled, or looped, filaments are filled with growth substrate to min. 18 mm or 25 mm thickness.
To avoid damages caused by UV-radiation or wind we advise to backfill XF 301 VC immediately after being unrolled for cultivation.
Recommended Applications for XF 301 VC
* Carrier for growing vegetation intended for extensive green roof system installations
* Pre-vegetated mat cultivation for green roof construction
* Extensive green roof installations in dry climates
Stable and Easy to Install
XF Grow's vegetation carriers are synthetic and therefore strong and dimensionally stable. Unlike coconut coir mats, they don't decompose or fall apart during cultivation or installation. The resulting pre-vegetated mats are easy to harvest in the field, transport in vehicles and install on the job site.
Features and Benefits
* Easy to roll up for transportation from field to building site
* Light-weight rolls easily lift to rooftop
* Flexible and cuts to shape
* Reinforces vegetative growth and stabilizes soil
* Instant green results for designer, contractor and owner
* Cradle-to-CradleTM Certified
* Short growth cycle for quicker turn around and higher annual profitability
* Contributes to storm water management
Simple To Cultivate
You don't need fertile land or specialized equipment to cultivate XF Grow's vegetation carriers. You can use seeds or cuttings from mature sedum mats to start new ones, and require only 1-2cm (0.4-0.8in) of growing medium compared to 10-20cm (4-8in) for trays. Harvesting is quick and simple, too.
XF 301 VC Technical Data
Physical Properties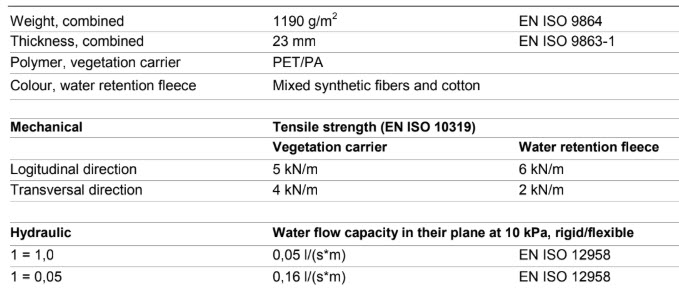 Dimensions and Weights