What is thicker? 10 mil or 6 mil? Is 5 mil thicker than 3 mil plastic sheeting?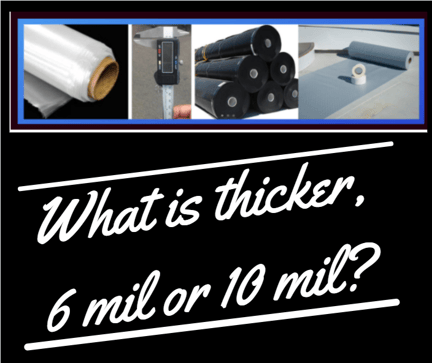 Thickness of Plastic Sheeting...What should you use?
Plastic sheeting AKA polyethylene sheeting's thickness is measured in "mils". The bigger the number the thicker the plastic. Plastic sheeting comes in ranges from 1 mil to 100 mils! A "mil" A mil is a measurement that equals one-thousandth of an inch, or 0.001 inch. Most human hair is one-thousandth of inch, or 0.001 inch. 10 mil plastic sheeting is therefore thicker than 6 mil. 5 mil is thicker than 3 mil. Note that mils is not the same thing as mm or millimeters. One mil also equals 0.0254 mm (millimeter).
10 mil vs 6 mil
If you want to compare 10 mil to 6 mil plastic, get 10 sheets of paper and compare it to 6 sheets of paper. That is a rough approximation of the thickness comparison.
5 mil vs 3 mil
The smaller we get in mil thickness, the weaker a piece of plastic sheeting is if we are comparing apples to apples. A plastic grocery bag is between 2.25 to 3 mils thick. So if the bag was actually 2.25 mils thick you would double it to compare it to 5 mil.
PLASTIC SHEETING'S GREAT BIG EXCEPTION.....
Why why why is there always an exception to the rule??? Just like there are different grades/quality of gasoline or wine, the same goes for plastic sheeting. "Virgin Resin" is like a high grade of gasoline, or nicely aged bottle of wine. It is pure without regrind mixed in. So when you read that the big box home improvement store has recycled plastic sheeting in varying degrees of thicknesses- please understand that those films while they may be 6 mils thick, they won't be a durable a the same 6 mil in thickness virgin polyethylene roll.
What's the difference between virgin resin and recycled polyethylene sheeting?
The term "virgin" when referring to polyethylene plastic sheeting is talking about what is mixed into the molten plastic when formulating the plastic sheeting. Virgin means that it is pure polyethylene. Some rolls of polyethylene plastic sheeting have other cheaper components mixed in the lower the price of the plastic. This can be scrap plastic that is ground up and mixed in to the formulation. Is this a bad thing....It all depends on what you are using the plastic for. If you are throwing some plastic down for a children's painting party, or covering that old couch while you paint...no big deal. You don't need virgin poly for those one time use projects. When you are finished you just toss the plastic.
On the other hand, if you are covering a crawl space, expensive equipment, or using the plastic for jobs where you need to depend on the plastic to hold up, then it's worth the few extra dollars to get "premium" or virgin polyethylene.
WHAT??!! There are different additives available for plastic sheeting??
Yes, another thing to consider...Plastic sheeting is so amazing because you can add additives to make it perform better. Did you know that plastic sheeting comes in a flame retardant/ fire retardant version?! It's true. When the fire retardant additive is added, the plastic sheeting will melt, but it won't burn and add to the fire. This is why the Navy, and public exhibits that use plastic sheeting select fire retardant plastic sheeting. If a fire should break out in a haunted house you don't want the black plastic to accelerate the fire and add to it. It's just as easy to order fire retardant plastic as it is
Other types of additives include, anti-static with fire retardant, U.V (ultraviolet inhibitors) stabilizers, anti-slip additives as well as coloring and various coatings.
String/Scrim Reinforced Plastic Sheeting
Plastic sheeting on its own only has so much strength. Especially when high winds are involved. You have seen plastic that is torn up into shreds, right? That same roll of plastic could have been made with a polyester string cord added to the plastic in layers to fortify it. Now a 6 mil roll of plastic with string/scrim reinforcement is stronger than a 6 mil plain roll of plastic. If you add the UV additive or the FR additive, now you have a stronger string reinforced roll of plastic that can stand up to the sunshine (public enemy number 1 for plastic) and a fire or flame.
Why does thicker plastic sheeting cost more?
The thickness of the plastic sheeting correlates to how much petroleum is used to make it. The thicker the plastic, the more polyethylene is needed. This is why calipers (shown above) are used to measure the thickness of plastic film. People who rely on the quality and thickness of their plastic sheeting use digital calipers to make sure that the 10 mil film is actually 10 mils thick.
HDPE- Heavy Duty Plastic Sheeting
HDPE is a high density polyethylene plastic. It has a high strength-to-density ratio. HDPE is used world wide. It's global consumption manages to increase by nearly 1% annually. In terms of volume, HDPE is the third-largest commodity plastic material in the world after polyvinyl chloride and polypropylene. In many parts of the world, PVC pipe is being replaced with HDPE.
HDPE, LDPE, LLDPE- How are they different? How are they similar?
What is the difference between the various polyethylene sheeting liners when someone specifies HDPE over LDPE, or LLDPE over MDPE for example? In the simplest terms, each liner will vary by its thickness and its flexibility. The main difference between the different types of plastic is the way their cellular structure, or molecules bond with each other, and how tightly they are formed. To learn more about which one is the most flexible, most common, the toughest and so on, please click here.
Can Plastic Sheeting withstand extreme chemicals?
The most incredible film that is used for spill containment, wastewater impoundments, landfill liners, floating covers, tank farms, and potable water applications is explained in detail here.
If you are not sure which plastic film you need for your project, just give us a ring. We love talking about this topic!