Griffolyn Type-65- HDPE- Vapor Retarders, Floor Covers, Temp. Walls....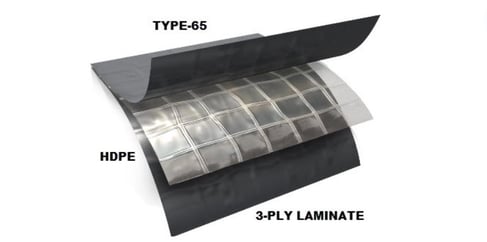 Griffolyn® Type-65 is a 3-ply laminate combining two layers of high-density polyethylene (HDPE) and a high-strength cord grid. The non-woven cord grid provides a uniform loading resistance. It is specifically engineered to provide high strength and durability in a lightweight material
This heavy duty plastic sheeting is a Class C, ASTM E-1745-11 Standard Specification for Water Vapor Retarders Used in Contact With Soil or Granular Fill Under Concrete Slabs.MADE IN THE U. S. A.

Griffolyn Type-65

features and benefits•
Multiple layers and cord reinforcement resists tears.
• UV stabilization protects the material from degradation during extended exposure to sunlight.
• Cold-crack resistance eliminates failures in extremely cold temperatures.
• Chemically resistant to withstand exposure without significant deterioration.
• Low permeability greatly inhibits moisture transmission.
• Flexibility and light weight allow for easy handling and quick installation.
• Custom fabrication is available to meet your exact specifications.
• High durability allows for significant savings through reuse and fewer replacements
Suggested applications
• Architectural vapor retarder for underslab, in walls & ceilings and in roofing systems.
• Pallet, cable reel and drum covers for outside storage.
• Floor covers, dust partitions and cleanroom enclosures.
• Temporary walls, plant dividers, building enclosures and containment tents
.• Shipping container covers and liners.
• Soil covers to control leachate for stockpiles and landfills.
• Erosion control and slope protection covers.
Type-65 AVAILABLE COLORS:
Black
SIZES: Rolls are available from 4' x 100' to 40' x 100' in increments of 4' widths. Some sizes available for immediate shipment. Standard length and width tolerances are ± 1% (minimum 2")
Custom sizes up to 120' x 200' and custom fabrication are avaiable to meet your exact specifications.
USABLE TEMPERATURE RANGE: Minimum: -25°F -31.6°CMaximum: 170°F 77°C
OUTDOOR EXPOSURE
Under normal continuous exposure the average life expectancy ranges from 18 to 30 months, depending on color.
Reinforced Vapor Retarder: GriffolynType-65.1.
Material: 3-ply laminate, combining 2 layers of high-density polyethylene and 1 high- strength non-woven cord grid.
2. Weight, ASTM D 3776: 37 lb/1,000 ft2 (18.1 kg/100 m2). 3. Puncture Propagation Tear, ASTM D 2582: 28 lb (124 N).
4. Permeance (Perm), ASTM E 96: 0.038 grains/hr-ft2-in Hg (2.18 ng/(Pa-s-m2)).
5. Drop Dart, ASTM D 1709: 500 g.
6. Tensile Strength, 3 Inches, ASTM D 882: 96 lb/5,442 psi (427 N/37,522 kPa).
7. Puncture Strength, ASTM D 4833: 24 lb (106 N).8. Usable Temperature Range: -25 to 170 degrees F (-32 to 77 degrees C)
Fire Retardant Tapes
The information provided herein is based upon data believed to be reliable. All testing is performed in accordance with ASTM standards and procedures. All values are typical and nominal and do not represent either minimum or maximum performance of the product. Although the information is accurate to the best of our knowledge and belief, no representation of warranty or guarantee is made as to the suitability or completeness of such information. Likewise, no representation of warranty or guarantee, expressed or implied, or merchantability, fitness or otherwise, is made as to product application for a particular use.
Questions?