Tape Thickness Chart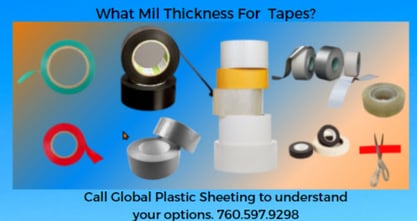 The thickness of a tape in part dictates how strong it is. Other factors include the whether it is string reinforced.
The adhesion/stickiness can also be varied depending on the application. Tapes can be fire retardant, waterproof,
fish safe, and vary in it's ability to withstand heat and cold.
One size does not fit all. Pick the tape that will best serve your goal.
Please click on the tape name in the right hand column to learn
more about that tape and its characteristics.
| | |
| --- | --- |
| Tape Thickness | Tape Name |
| 7 mil | |
| 7.5 mil | |
| 8 mil | |
| 8.5 mil | |
| 12 mil | |
| 12 mil | |
| 13 mil | |
| 15 mil | |
| 26 mil | |
| 35 mil | |