How is SolaWrap Greenhouse Plastic different than Bubble Wrap
SolaWrap Bubble Greenhouse Covering VS Bubble Wrap...Are there any differences?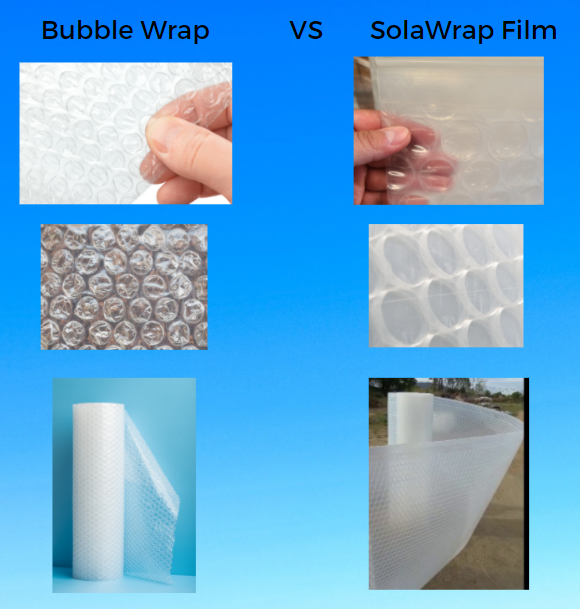 The short answer is YES, SolaWrap is 17 mil thick when flattened out and over 1/4" inflated. Normal bubble wrap will have varying thickness' but the biggest difference is the Ultraviolet inhibitors present in our film which gives it a 10 year UV warranty.
SolaWrap greenhouse plastic film will out last just about everything in the market made out of PE.
Let us send you a sample of our film, and put it outside in direct sunlight with a piece of bubble wrap next to it. Then just watch over time.
We have structures using the same film continuously (no recover) for over 30 years without issues.
Another very visible difference is how the bubbles in our film are closed with a 3rd layer of film, helping with thermal gain or loss. Bubble film is only two layers, the outer skin and the bubble.
In Summary:
SolaWrap is 17 mil thick
SolaWrap is designed for the sun, wind snow for greenhouse growing. It has UV inhibitors.
SolaWrap has a 30 year track record withstanding 100 MPH winds and 120 lbs snow loads
Solawrap has 3 layer bubbles. It's so tough it's almost impossible to pop. Bubble wrap is more fun to pop!
Would you like to see a SolaWrap sample to see for yourself?
Call 760 597 9298 and ask for one today.