Polyken 225FR 12 mil Premium Flame Retardant Duct Tape 2" x 60 yds
MOISTURE RESISTANT-FIRE RETARDANT POLYETHYLENE WHITE UNPRINTED CLOTH TAPE
A superior flame retardant polyethylene coated moisture resistant tape with an exceptionally aggressive adhesive to a variety of substrates including steel and plastic.
Applications for this flame retardant tape:
Used in areas where flame

retardancy

is required

For sealing duct work, fiberglass insulation, and wire harness insulation and building applications

Cargo pit applications for freight carrying aircraft like seaming and repairing cargo compartment liners and covering pins and rivets.
225 FR Colors: White printing on 2" and 3".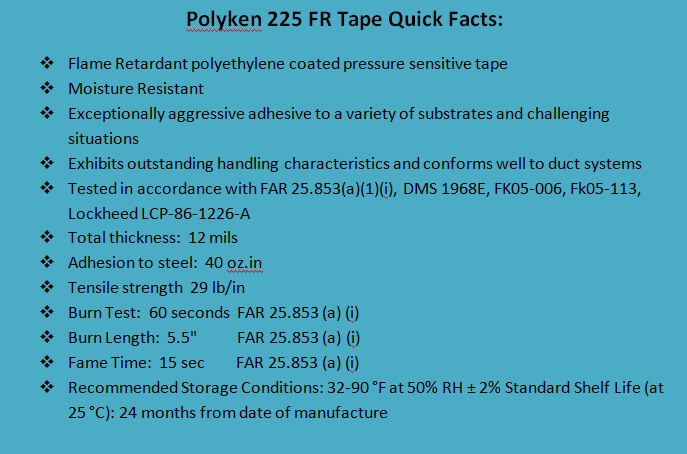 225 FR Tape Product Construction
Adhesive: Rubber
Backing: Polyethylene coated cloth
Why Is 225 FR our BEST Selling FR Tape Year after Year?
Moisture Resistant
Flame Retardant
Minimum Application Temperature is 40 degrees F.

Minimum Service Temperature is 0 degrees Fahrenheit

Maximum Short-Term Temperature is 180 Degrees Fahrenheit

Are you stuck? Need help with your sticky situation? Let's us help!

By Phone Toll Free In the U.S. 866 597 9298

By Phone directly: 760 597 9298

By Fax: 760 597 9574

By E-Mail: ContactLee@globalplasticsheeting.com

By Web form click here please.

THANK YOU!