Mils to Microns-What's thicker?
How Thick is a Micron?
A micron is a term representing a unit of measure in the metric system equal to 1 millionth of a meter in length (about 39 millionths of an inch). The average cross-section of a human hair is 50 microns.
How Thick is a Mil?
A mil is a measurement that equals one-thousandth of an inch, or 0.001 inch. Most human hair is One-thousandth of inch, or 0.001 inch. The most common size in the thickness rating for plastic sheeting is 6 mil. This is 6-thousandths of an inch, or 0.006 inch.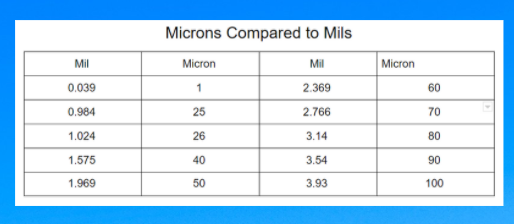 If you need an exact number click here to see a micron to mil calculator.
What is a Micrometre and is it the same thing as a Micron?
A micrometre which is the international Bureau of Weights and Measures spelling is called a micrometer in the USA and is also called a micron for short!
It is equal to 1×10−6 metre. The symbol used is μm.
What is the difference between MIL and gauge thickness?