GPS HD 40 mil- HDPE Plastic Sheeting for Root Barrier, Pit liners, Soil Remediation, Canal Liner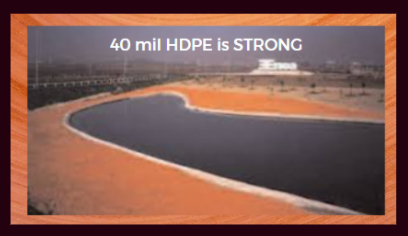 GPS HD 40 mil is a smooth, high quality, high density polyethylene (HDPE) geomembrane produced from specially formulated, virgin polyethylene resin. This polyethylene resin is designed specifically for flexible geomembrane applications. It contains approximately 97.5% polyethylene, 2.5% carbon black and trace amounts of antioxidants and heat stabilizers; no other additives, fillers or extenders are used. GPS HD has outstanding chemical resistance, mechanical properties, environmental stress crack resistance, dimensional stability and thermal aging characteristics. GPS HD has excellent resistance to UV radiation and is suitable for exposed conditions. These product specifications meet or exceed GRI GM13. This product is used as a root barrier to stop bamboo roots and other invasive plant roots. **Please note- minimum order for any of our HDPE liners is 1000 square feet. Thank you.**
Excellent chemical resistance
Outstanding stress crack resistance
Lowest permeability
History of proven performance
Meet or exceed all aspects of GRI GM 13
All GSE geomembranes have dimensional stability of ±2% when tested with ASTM D 1204 and LTB of <-77° C when tested with ASTM D 746.
Tensile Properties (each direction) ASTM D 6693, Type IV 20,000 lb
Strength at Break, lb/in-width (N/mm): 152 (27)
Strength at Yield, lb/in-width (N/mm): 84 (15)
Elongation at Break, %: 700
Elongation at Yield, %: 12
Tear Resistance, lb (N)- ASTM D 1004- 45,000 lb- 28 (125)
Example of a customer email question:
Question: I am looking for pricing, along with some technical guidance, for ~98,000 SF of impermeable liner for temporary containment of dredged contaminated soils. The aim is to protect the liner underneath asphalt pavement. Two primary questions:
Is 40 Mil HDPE liner the most appropriate for this application, or do you recommend any alternatives?
Do you have any high-heat resistant liners which could be paved over directly? I'm not even sure if this type of product exists, but we'd prefer to just pave over the existing asphalt rather than place base fill; obviously that's unrealistic though if the liner wouldn't hold up to the heat of the placed asphalt.
E-mail Answer: The best starting point for this project is to find out what the contaminated soil contains, and at what concentration levels.
Has an engineer specified HDPE for this application? HDPE has a working maximum temperature of 120 to 180 °C (248 to 356 °F). Do you know hot the asphalt is when it hits the ground?
I am pretty sure paving fabric is made from polypropylene. We may be able to supply a polypropylene liner if the temperature is too high for HDPE.
We also have other chemical resistant liners available depending on what is needed. Some of them are also designed for higher heat applications.
*********************************************************************************************************************
Please give us a call so we may help you with your HDPE questions and applications
Have Root Barrier or other HD Question?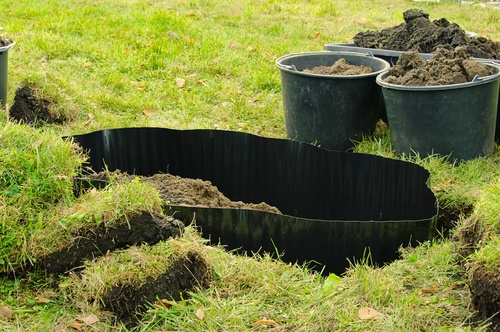 By Phone Toll Free In the U.S. 866 597 9298
By Phone directly: 760 597 9298
By Fax: 760 597 9574
By Web form click here please.
THANK YOU!