GPS Heat Shrink Wrap Tape meets DPS 3.301 DPM #871-2
GPS Heat Shrink Tape- For Shrink Wrap Operations
GPS Heat Shrink Tape was formulated to meet the demanding needs of Shrink Wrapping applications- patching holes, taping on access doors for shrink wrapped items This white tape is standard in 4" x 180' and 2" x 180'. The 4" has pinked edges for easy hand tearing in the field.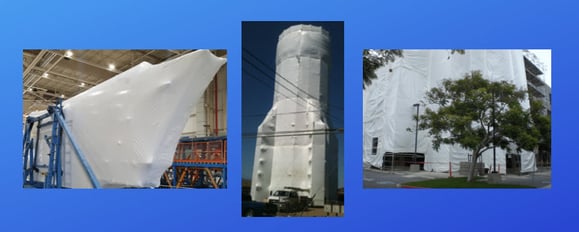 Why Chose GPS Heat Shrink Tape:
Adheres very strongly to heat shrink wrap polyethylene

Made this one to withstand the elements, so it adheres very well over a wide temperature range.

Highly water resistant, strong and durable, while remaining flexible and conformable.
GPS Heat Shrink Tape was made for the shrink wrapping industry, yet this tape has found a home in many other industries such as:
Construction, Aerospace, Automobile, Manufacturing, Crawlspace and Basement encapsulation, Agriculture, Industrial applications, Shipping and Containerizing.
If you need a high adhesion tape, this may be an excellent choice. To give you an idea how versatile this tape is, one of the Nation's leading commercial construction companies recently replaced 15 tapes made for various purposes (including cold weather tape) with this tape, and say it outperforms each of the tapes it replaced and saves them a lot of money.
GPS Heat Shrink Tape conforms to surfaces and is flexible. It has a polyethylene film backing. The adhesive is rubber. GPS Heat Shrink Tape meets DPS 3.301 DPM #871-2.
Total Thickness: 8 mil Per ASTM D-1000
Tensile Strength: 21 lb/in Per ASTM D 1000
Adhesion to Steel: 60 oz/in Per PSTC-101
Operating Temperature: 40 to 200 degrees Fahrenheit
MVTR (96% RH,100 Degrees Fahrenheit) 0.112 perms Per ASTM D-3833
Elongation 70%
It is recommended that the GPS Heat Shrink Tape be stored between 40-60% humidity, at 60-80 degrees Fahrenheit.
Stuck and Have A Question?
We can be reached so many ways.
By Phone Toll Free In the U.S. 866 597 9298
By Phone directly: 760 597 9298
By Fax: 760 597 9574
By Web form click here please.
T

H

A

N

K

Y

O

U

!