Greenhouse Plastic Poly Permanent Repair Tapes
Expands the life of your Greenhouse!
It's the BEST greenhouse repair tape we have found!
Application: The surface should be clean before application. Warm soapy water usually works or glass cleaner, and it must then be allowed to dry. The tape should be applied to both the inside and outside of the structure. It works best to apply in warm dry weather, allowing the tape to cure and form its strongest bond. This tape is known to extend greenhouse plastic sheeting by years.
Greenhouse Plastic Repair Tape 6 mil- Sizes Sold by the Case,

WITH

a kraft paper release liner for easy removal...Its much easier to apply due to the liner.
This is the last repair tape you will need to fix a rip in your greenhouse films. It is a single coated, 6 mil, UV stabilized, clear, polyethylene film with a high tack acrylic adhesive with Kraft paper release liner for easy removal. It is designed for interior and exterior bonding applications.
2" x 48' -54 rolls in a case

4" x 48' 27 rolls in a case

6' x 48' 18 rolls in a case
Patching Tape for Greenhouse Plastic Repair
Repairs tears, cuts, or rips in non-woven greenhouse plastic.
Clear

AGGRESSIVE Adhesion to Films

Conformability to irregular surfaces

Withstands Extended Exposure to the elements

Linered for less scrap

UV Stable

Weather Resistant

6 mil polyethylene
Applications Include:
Greenhouse Patching and Seaming on Films

Splicing, Seaming and Sealing-Coated or Uncoated Surfaces

Surface protection and Temporary Hold down

Sandblasting Stencil Mask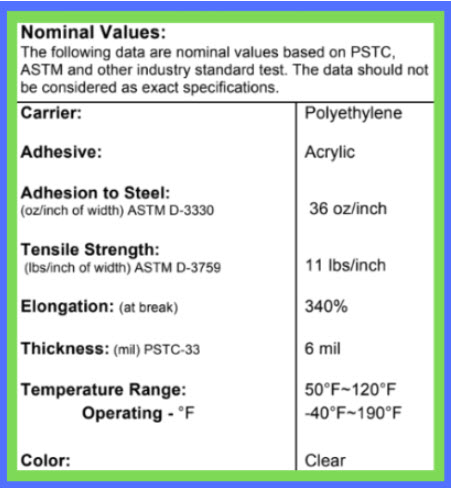 Greenhouse Repair Tape 5.5 mil , sold by the case

WITHOUT

a liner... Thus it's more difficult to apply
This Greenhouse Repair Tape 02 is a single coated 5.5 mil, general-purpose, clear, polyethylene film with a high tack acrylic adhesive.
It has excellent resistance to temperature fluctuation and ultraviolet rays. Available in colors: Clear, Red, white and blue. It is designed for Interior and Exterior Bonding Applications.
2" x 54 ' 54 rolls/case
4" x 54' 27 rolls/ case
6" x 54' 18 rolls/ case
10" x 54' 12 rolls/ case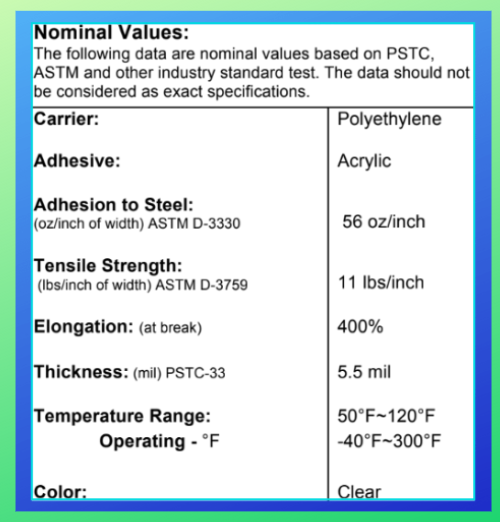 High Humidity 3M 396 Tape
This Vinyl tape contains fungicide for use in high humidity areas. Air/gas permeable. Temperatures to 200 °F. White non-woven with acrylic adhesive
1" x 36 yards 36 rolls/ case
1.5" x 36 yards 24 rolls/ case
Aluminum Foil Tape used for sealing top of polycarbonate panels
1" x 150 ' 48 rolls/case
1.5" x 150' 32 rolls/ case
2" x 150' 24 rolls/ case
White Felt Tape
White foil with adhesive backing w/ protective paper liner. Creates a barrier between the frame and cladding. Strapping the degradation due to film rubbing against the hoop.
1.5" x 48' 32 rolls/ case