SolaWrap -the Greenhouse Plastic Cover commercial greenhouse growers and hobbiest alike LOVE!
SolaWrap ...So what's the big deal anyway?????.....
Good afternoon- SolaWrap Films (SolaWrapfilms.com) here. Today we are going to talk about the construction of Solawrap- what makes it special. Depending on your need, the LONGEVITY is insane! We tout and give a full 10 year warranty against UV degradation- which is unheard of for a clear polyethylene based film. We also provide you with a film that is very very different. If you are growing tomatoes, peppers, cucumbers, flowers, - you are going to end up getting a nice deeper more beautiful heavier plant set because of what the light does coming through our film. Not only does it diffuse at a high level, unlike other diffused films - the traditional frosted greenhouse films- blue films , they give you one type of light. They are a one trick pony. If you take a close look at the SolaWrap photos, don't look at the plants- although they are beautiful, look at the film colors. What you will see is a coloration change in the film. That is because the film is clear- it is not frosted. And depending on which way the light is hitting it, it will refract, diffuse, or give direct sunlight depending on where it is hitting on our structure. What does that really mean? It means that rather than frosting your house or putting a spray coat on it, or using diffused film, when you have low light levels you are in a situation where you are going to have to add supplemental lighting to extend your seasons. Clear film- clear polycarbonate in this case , you get a lot of direct light. The problem is, it burns -or it is a little too hard and it stresses your plants. It doesn't give you enough diffusion. SolaWrap will give you 3 types of light qualities in one film. It gives you a lot more flexibility with where you are- time wise, seasonally speaking and light quality wise because light does change. We can be in San Diego and have a rainy day. On those days diffused film is not as good as clear film. SolaWrap give you those options. Thank you very much. We will be back soon with a new series.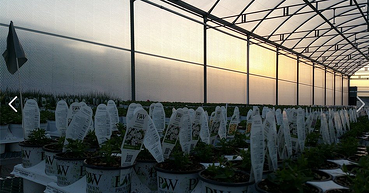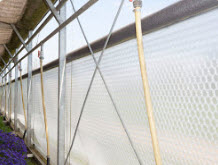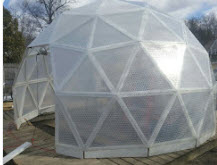 Do you have a quick question about SolaWrap Greenhouse Plastic?