Greenhouse Plastic Cover SolaWrap
The Greenhouse Plastic of The Future That Covers The Frame and Extends Your Growing Season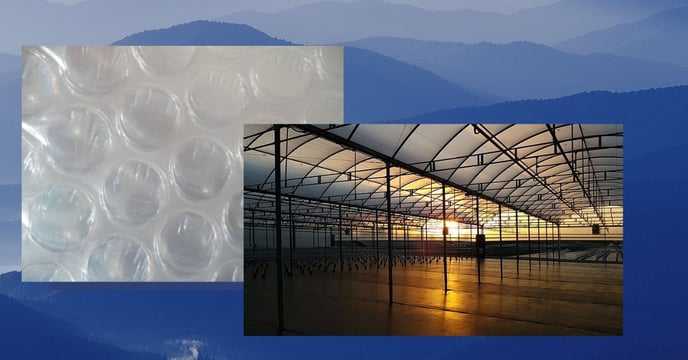 Meet the greenhouse plastic covering called SolaWrap Greenhouse Film
SolaWrap greenhouse film (with bubbles) is a revolutionary polyethylene film that saves energy, offers UV protection, durability with transparency and extends the growing season. The unique bubble design is what allows SolaWrap the capability to allow for year-round production at a fraction of the cost of traditional greenhouse films. Known in Europe as LP Keder or Polydress, SolaWrap is now available in U. S markets. It's an insulated film that withstands the most extreme climates. SolaWrap has a track record for over 40 years of testing in the Swiss Alps, the Middle East, and across Europe. SolaWrap provides an insulating effect that retains up to 95% of heat radiation while providing an R-value of 1.7. This energy savings is significant!
SolaWrap Significant Energy Savings
Thanks to its distinctive insulation properties (thermal conductivity value of 3.3 W/sq. m.K), SolaWrap offers a high level of energy efficiency. Its construction principle (air bubbles, keder, profile) prevents any leaks or thermal bridges, so that up to 95% of the heat radiation can be retained. This allows you to save money.
SolaWrap greenhouse plastic guarantees the uniform illumination of the entire horticultural area. At the same time, the air cushion bubbles (1,000 bubbles per sq. m.) ensure a diffuse illumination inside. This prevents the formation of shade and burning glass effects.
High Resilience- That's what makes SolaWrap Solawrap!
Another plus point of the film is its high resilience. Unlike some other films, SolaWrap can withstand the standardized drop weight test without any consequences. Due to its high quality, it can bear high surface loads by sectioning off the roof surface.
Weatherproof Greenhouse Cover
SolaWrap represents the highest degree of security for a greenhouse cover. Experience has shown that the horticultural area is well-protected, even in the event of hail, snow or high winds. Even "Lothar", the storm of the century in 1999, had no adverse effects on the film. A wind storm with 135 mph winds didn't do SolaWrap in either in Alaska!
10 Year Long-term UV Stability
GPS guarantees the 10 year UV stability of SolaWrap at 100 Kly/y. Even under the most severe climatic conditions, no changes in color or clouding will occur, and the film will not weaken in any way.
Condensation
SolaWrap has an anti condensation layer built into the film. Depending on your structure design, condensation can still occur, like all films on the market. A lot depends on internal and external temperatures as well as humidity levels expected in your greenhouse. The air flow and air exchange also plays a role.
Easy Installation
SolaWrap can be easily cut with a knife or scissors. The low weight of the strips of keder allows for simple installation and simple replacement of old or defective sections. Download Installation Instructions
Trouble-free Recycling- Yes you may recycle SolaWrap!
SolaWrap is a polyethylene film that can be completely recycled in an environmentally-friendly manner or thermally reused in secure fashion.
SolaWrap Roll Sizes:
4' x 328'
5' x 328'
6' x 328'
The differences between SolaWrap and a 6 mil film are significant:
Temperature change:

In a Solawrap house you don't have dramatic temperature changes during 24 hour day. Plants aren't shocked by the rapid temperature changes. In a 6 mil house, that film lacks the insulating properties of Solawrap.
3 Kinds of Light:

In a Solawrap greenhouse the bubble/ film gives you

diffused, refracted and direct

sunlight.
What about a cost saving when growing medical cannabis? According to the INC report..."growing cannabis greenhouse enables almost the same yield at four to six harvests per year, but at a lesser cost. The cultivators reported that cannabis cultivated in the greenhouse can produce a pound of weed at a US$50 (AU$64) cost, when indoor cultivation needs US$300 to US$500 (AU$384 to AU$640) for the same yield."
Click here to see images of SolaWrap up close.