Glass Plastic-Self-adhesive glass protection and smooth metals film - 6 months & 1 year versions
PROTECTIVE FILM FOR GLASS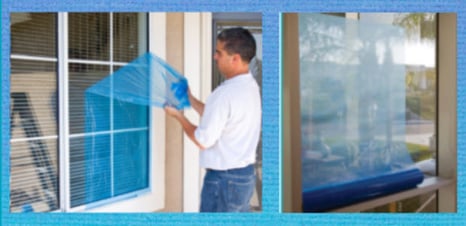 GPS Glass Plastic film is a critical component during construction. It sticks to the glass to protect from paint, wet stucco and other debris from marring the glass. GPS offers 2 different glass/window protection films, in both blue and clear versions. The GPS Glass Plastic 6 Months is excellent for use on projects up to 6 months long. GPS Glass Plastic 1 Year is perfect for jobs lasting up to one year. Both are 3 mil films with water-based adhesive systems. Both have been in the market for many many years, and offer an excellent level of protection at excellent prices.
The 1 year GPS Glass Plastic self adhesive film, when compared to traditional PVC 1 year films, is quite a bargain! The number one reason self-adhesive plastic/ glass film is so great for use on windows is that it stays on the window, and nobody has any reason to remove it. Traditional means of protection, where plastic is taped over the outside of the entire window and frame is almost never left undamaged, and the windows most often suffer damage of some kind.
Long lasting window protection at excellent prices.
6 month and one year versions of GPS glass plastic

3 mil glass films
Stocked in both clear and in blue
Self-adhesive polyethylene films
State-of-the-art adhesive systems
If the windows are operational, they can be opened and closed for interior ventilation, without damaging the protection.
 In addition to protecting glass, this product is suitable for the masking and protection of smooth metals
including bright annealed stainless steel, high gloss painted metals, anodized bright aluminum and polished
aluminum.

Q: Can the Glass Plastic™ also be used on window frames?

A: Yes, in most cases, this film will adhere to the frame material, and work well for this application also. In some cases, the frames may not be smooth
enough for the adhesive system to adhere properly. This should be evident within a day of application. We always recommend that customers test
the material in the intended application
Q: These films look almost identical, what is the difference?

A: The difference between these two materials is mostly in the additive levels of the UVI in both the film and the adhesive. UVI stands for UV inhibitors. In the polyethylene business, we have additives to help polyethylene survive against one of its biggest enemies, the Sun and its UV radiation. More UVI, an expensive additive, is added to the 1 year version than the 6 month version. Likewise, UV additives are used in the adhesive systems for these films to make them more resistant to the damage done by the UV rays.
Q: If the film is going to be used in a very hot part of the country, should it still last the 6 months or 1 year?
A: Yes, the film should withstand these conditions, based on being used in the USA. The actual tests the film passes is based on extreme conditions, using 4 of the worst sets of conditions found in the USA. UV is simulated as hitting the glass 24 hours per day in an environmental testing chamber. We feel we have a good margin for error built into both products. Still, if the products are used in circumstances where the weather has been particularly brutal, especially over a long period of time, we recommend peeling a little film off the glass on the South side of the building once in a while to make sure everything is looking good. It would be a lot easier to remove at the first signs of a problem than 3 months after the first sign
of a problem.
Q: Do customers commonly have problems with your Glass Plastics leaving residue on the glass when removed?

A: To date, these films have not had even a single reported adhesive residue complaint. Knock on wood! The plastic should remove completely cleanly, leaving a sparkling clean window.

Q: Do these films have a shelf life?

A: The engineers recommend that these films are installed within 6 months of their purchase date.

Q: Can this film be installed on windows with special coatings, or engineered glass?

A: We always recommend that customers check with the manufacturers of the windows for the answer to this question. Always remember to check on the clear covering, as some manufacturers are concerned that the blue color could absorb heat that could be problematic.

Q: Can this film be installed in cold weather?
A: For best results, the film should be installed at temperatures 60 degrees F and above. If you must install in colder weather, always try to have the film warmed up to at least 70 degrees F, that will help immensely. Because this is a pressure sensitive adhesive system, apply extra pressure when installing in colder weather for maximum initial bonding.

Call us from a landline at 760 597 9298
Window Plastic / Glass Plastic for scratch protection
Do you have a quick question?