GPS Floor Plastic- Self Adhesive Hard Surface Floor Protection- 3 mil green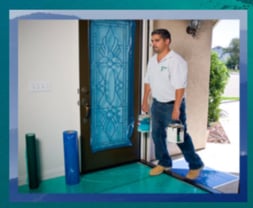 Protection for hardwood floors, laminates, ceramic tile and more
GPS Floor PlasticTM- This incredible hard surface, self-adhesive floor protection film (Green film in picture above) will withstand construction activities and foot traffic for 45 days in normal circumstances. State of the art water-based adhesives are used while manufacturing this product under very strict quality assurance guidelines (ISO9001-2000 certified facilities) in the USA. Packaging is always in generic boxes with generic labels for distributors who wish to have us drop ship to their customers. Reverse wound on the rolls for the most popular uses, for the fastest application. Recommended for factory finished hardwood floors (in excellent condition), laminates, tile, ceramic, stone, or any hard non-porous surface needing protection from workmen activities.
GPS Floor Plastic Features and Benefits:
3 mil Self-Adhesive Film

Provides hard surface floor protection- acts like a second skin

State of the art adhesive system, water-based acrylic

Tough, puncture resistant polyethylene film (LDPE)

Made in the USA (100%)

Top Quality!! Manufactured in ISO 9001-2000 certified plant

Use on factory finished hardwood, ceramic, tile, stone, laminates

Leaves NO Adhesive Residue

Satisfaction Guarantee
Every floor deserves GPS Floor PlasticTM to keep it clean and scruff free!
Save youself some aggrivation! Cover the floor! Let's chat!
By phone Toll Free In the U.S.

866 597 9298
By Phone directly: 760 597 9298
By Fax: 760 597 9574

Call us from a landline at 760 597 9298
Do you have a quick question?