EnkaRetain & Drain 3211 for Green Roofs/Vegetative Roof Gardens
Water Retention Drainage Mat- Green Roofs love this stuff!
EnkaRetain & Drain 3211 was specifically designed for green roofs. This multi-function composite consists of a 40% post-industrial recycled polypropylene drainage core of fused, entangled filaments and a specially formulated water retention fabric bonded to one side.
This Drainage Mat:
Is made of entangled filaments that are molded in a square pattern.

The water retention fabric is a 14.7oz.yd² non-woven polypropylene fabric made of 100% post industrial recycled fibers.

This drainage mat will hold 15 times its unit weight of water.

The protection fabric eliminates the need for protection board and stops penetration and migration of bitumen membrane.

Inert to biological degradation and naturally encountered chemicals, alkalis and acids.

Can help to contribute up to 2 LEED points when used with other recycled content products.

When used as part of a green roof, ti can add towards additional LEED points by reducing storm water runoff, heat islands and energy consumption.
Features and Benefits: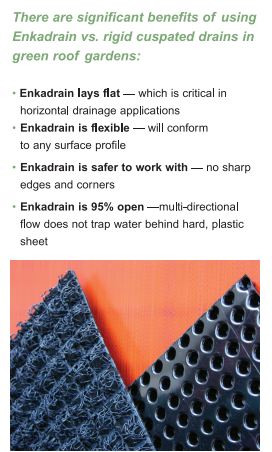 | | | |
| --- | --- | --- |
| Roof Gradient | Problems | Solutions |
Steep

5-20° (9-36%)

· Runoff increases with roof gradient

· Water runs off too quickly on steep slope, growing substrate can become dry especially near the top of the roof

· Risk of sliding of green roof materials on the roof at high gradients

· Use thin profile Enkadrains (0.25") to slow down runoff and allow time for the rain to soak into the growing substrate

· Use EnkaDrain&Retain to retain water and compensate for higher runoff
Technical Data of EnkaRetain & Drain 3211 for Green Roofs:
Physical Properties:

Flow Rates:

Do you have a quick question regarding EnkaRetain and Drain?