Is Below-Grade Moisture Infiltration a Problem?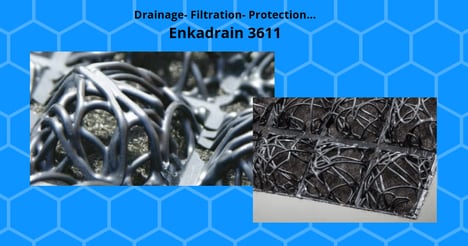 Is Below-Grade Moisture Infiltration a Problem?
Moisture infiltration is an assumed challenge to every building and home with a below-grade foundation. Soil types, rainwater, groundwater and improper grading contribute to overall damage to foundations and structures; coupled with hydrostatic pressure, caused by the natural soaking of water into the soil, rather than staying on the surface, makes maintaining a waterproof or even water-resistant building temporary at best.
Enkadrain 3611 offers 3-way Advantage: Drainage, Filtration, Protection
Designed to relieve hydrostatic pressure from soils abutting below grade structures and provide a consistent water path, Enkadrain provides a lightweight alternative to traditional sand and aggregate drains. During the early stages of construction, loose back fill soli can quickly clog a traditional aggregate drain layer and the perforated drainpipe during a heavy rain, but the bonded geotextile filter fabric allows water to pass through to the polymeric core while filtering out loose soil particles. Ground water is then channeled through the Enkadrain core to the discharge system before it ever reaches subsurface walls, keeping the structure safe from foundation cracking and the interior safe from molds or other moisture causing issues.
Protect the Vapor Barrier
Also extremely durable, Enkadrain also acts as a protection layer to prevent construction equipment, sharp rock or debris in the soil from damaging the waterproofing membrane.
Environmentally Friendly The Enkadrain drainage composites are made up of a post-industrial, recycled polypropylene core of fused, entangled filaments and a geocomposite fabric bonded to one or two sides. These products can contribute up to 2 LEED points when used in conjunction with other recycled content products.

Enkadrain Application Solutions
• Foundations & Retaining Walls
• Commercial Buildings
• Insulated Concrete Forms
• Planters Plaza Decks Beneath Slabs
• Underground Parking
• Blind Forms
• Roof Gardens
• Wood Structures Features and Benefits
• Lagging Walls
• Highly flexible - conforms to all surface shapes
• Proven and predictable flow rates
• Longer and wider rolls reduce installation costs
• Flows from both sides; will not trap water against the membrane
• Protects waterproofing during and afterback fill
• Continuous flow even under high loads
• Fabric provides excellent bonding surface for shotcrete
• Made from recycled polymers
• Lays flat and does not crack or curl • No core overlap required – fabric overlap for easier seaming
• Protects waterproofing during and afterback fill