Enka WallDrain and 3D WallDrain
Wall Ventilation and Drainage

Exterior Wall Drain Product
Enka®WallDrain and 3D WallDrain products combine Enkamat® and Colback® technologies (with other nonwoven technologies) to provide proven performance in the construction industry, resulting in superior products that are installer friendly.
The WallDrain product series is an exterior wall drain product for use behind traditional stucco, EIFS, manufactured stone, fiber cement and metal panel
applications.
The product's 3D design provides a drain path and ventilation for incidental moisture between exterior wall finish materials and weather barrier
sheathing. This product design combines the benefit of compression strength using traditional testing measurements with the spring-like structure of Enkamat® products. This product is designed for commercial or residential applications.
Low & Bonar's 3D matrix technologies have been used for decades as a ventilation and drainage medium for the building industry. Our product range can be customized to meet any requirements or building codes. .
Enka WallDrain Applications
Commercial

and Residential:

 Stucco
 ThinBrick or Stone
 EIFS (exterior insulation and finish system)
 Wood Siding
 Fiber Cement Siding
Features and Benefits of Enka WallDrain
 Continuous ventilation and
drainage which removes
incidental moisture from the
wind driven rain pressure
differential
 Redirects and draws moisture
away from vulnerable wall
sheathing materials
 Conforms to irregular surfaces
and corners with complete and
effective coverage
 Provides 100% coverage of wall
area
 Filter fabric assures drain path
remains completely clear of
stucco or mortar
 Designed to create open flow
path even at excessive
pressures
 Dimensionally stable in hot
weather
 Not brittle in cold weather
Enka WallDrain Technical Data
Product Offerings

Performance Properties

Material Properties

Fabric Properties

EnkaWallDrain Packaging Options

Comparative Compression Results for Enka WallDrain
Thickness Under Load Comparatives- 6mm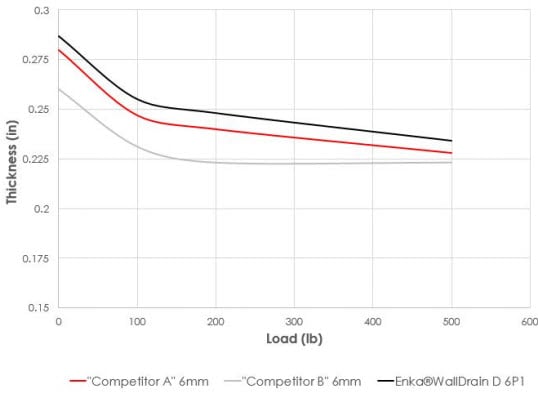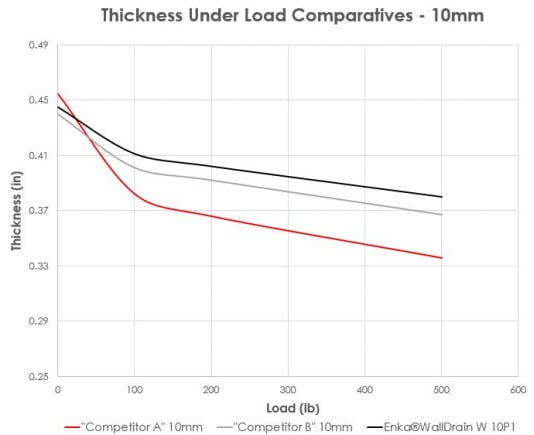 To the best of our knowledge, the information contained herein is accurate. However, Global Plastic Sheeting cannot assume any liability
whatsoever for the accuracy or completeness thereof. Final determination of the suitability of any information or material for the use
contemplated, of its manner of use and whether the suggested use infringes any patents is the sole responsibility of the user.
These products may be covered by patents or patents pending.