GPS DeckProtek Diamond Tread- Anti- Slip, Anti- Skid Heavy Duty Surface Protection in 10, 13 and 25 mil Blue
Very Heavy Duty Plastic Sheeting That is Fire Retardant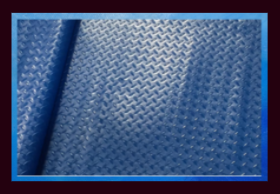 GPS DeckProtek Diamond Tread™ (in blue) provides the utmost in Fire Retardant surface protection for a wide variety of surfaces. If workmen damage is eating into your profit margins, this is the product for you!
This formulation is soft and supple, described as rubber-like, so it rolls out very easily, and lays completely flat. The bottom of the film is "soft" enough that it does not want to slip around on smooth surfaces, making it much easier to hold in place. The top is a diamond tread that makes it anit-slip or skid.
Superior in design, GPS DeckProtek Diamond Tread™ is the professional's choice! Market places include:
maritime marketplace
commercial installations
aerospace
healthcare
home building
remodeling
Benefits include:
Unique walking surface that is highly anti-slip and anti-skid
Flat-backed product that could leave a deck plate pattern on certain surfaces being protected
Cover even the easiest to damage decking and flooring surfaces
GPS Diamond Tread™
takes the worry out of using surface protection over surfaces like PRC Decking used on Navy Ships.
Standard thicknesses:



Standard thicknesses are; 10 mil, 13 mil, 25 mil.
Color: Blue
Custom products, colors and thicknesses are available. Please contact us for further details.